Miso Grilled Beef Ribs With Scallion & Ginger Salsa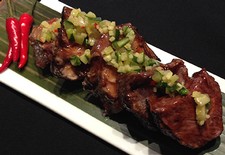 Measurements:
Imperial (US)
Ingredients
2 racks of beef short ribs
1/4 cup sesame oil
1/4 cup miso paste
1/4 cup seasoned rice wine vinegar
2 tbsps chili sauce
6 cups beef stock
1 bottle red wine (Meritage or similar)
1/2 cup soy sauce
1 cup hoisin sauce
1 medium size ginger root, sliced
1 bulb of garlic, cut in half horizontally.
1 stalk of lemon grass, cut in half lengthwise
1 tbsp ginger, minced
1 bunch scallions
1 tsp finely diced red chili
2 tbsps diced cucumber
1 lime, juiced
1/4 cup olive oil
Directions
Scallion & Ginger Salsa
Preheat your barbecue to high. Toss the scallions with 1 tbsp. olive oil and season with salt and pepper. Grill the scallions for 15-30 seconds per side, then allow to cool. When cool to touch, slice finely and place in a large bowl. Add in the the minced ginger, red chili, cucumber, lime juice, remaining olive oil, and mix well. Use within two days.
Miso Grilled Beef Ribs
Preheat your barbecue to high and preheat your oven to 300°F.

Whisk together the miso paste, chili sauce, vinegar and sesame oil. Rub the ribs with the mixture. Grill the ribs to impart a medium char, this should take 3 – 4 minutes per side. Remove from the grill and place in a roasting pan. Whisk together the remaining ingredients in a large bowl then pour over the ribs. Cover the roasting pan with a lid. Place in the oven for roughly 3 hours or until the ribs are just tender.
When the ribs are cooked remove from your baking dish. Strain the braising liquid, through a fine mesh strainer, into a large sauce pot. Place the pot over high heat and allow to reduce, this will thicken the sauce.
To finish the ribs, re-heat on your barbecue over low heat while brushing with the reduced braising liquid. Top the ribs with scallion and ginger salsa.