Chinese Five Spiced Ribs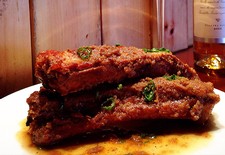 Recipe Date:
February 4, 2015
Measurements:
Imperial (US)
Ingredients
2 racks Ontario pork back ribs
1/4 cup salt
1/4 cup sugar
2 tbsps corn starch
2 tbsps black pepper
2 tbsps five spice
8 cups water
1/2 cup soy sauce
1 cup hoisin sauce
2 tbsps chili paste
1 medium ginger root, sliced
1 bulb of garlic, cut in half horizontally
1 stalk of lemon grass, cut in half length wise
Directions
Mix together salt, sugar, five spice, corn starch and black pepper. Rub the ribs and allow to cure overnight in the refrigerator. Rinse the ribs under cold running water to remove the cure, dry well with paper towels.
Brown the ribs by grilling over a bbq set to high for roughly 2-3 minutes per sides. Alternately you could deep fry the ribs until golden brown with the oil at a temperature of 400°F. Transfer the ribs to a roasting pan.
Preheat your oven to 300°F. Whisk together the braising liquid by combining water, soy sauce, hoisin sauce, chili paste, sliced ginger, garlic, and lemon grass in a large bowl then pour over the ribs. Cover the roasting pan with a lid. Place in the oven for 2-3 hours or until the ribs are just tender.