Bittersweet Chocolate Icewine Truffle Cake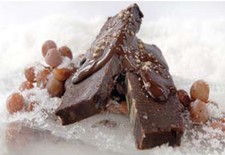 Recipe Date:
February 14, 2011
Measurements:
Imperial (US)
Ingredients
8 1/2 ozs bittersweet chocolate, chopped coarsley
3/4 cup plain butter cookies (arrowroot or shortbread style)
4 egg yolks
1/3 cup whole milk
1/3 cup Vidal Icewine
3/4 cup unsalted butter, softened
3/4 cup ground almonds
5 ozs bittersweet chocolate, chopped coarsley
2 tbsps whipping cream
Directions
Melt chocolate in a bowl over a simmering pot of water. Remove from heat and let cool. Meanwhile, chop cookies in a food processor until reduced to a fine powder. Set aside. Add egg yolks one by one to chocolate, whisking vigorously after each addition.
In a saucepan over medium-high heat, bring milk to a boil. Slowly drizzle the hot milk into the chocolate mixture, whisking constantly to avoid scrambling the yolks. When all milk has been incorporated, pour chocolate mixture into a saucepan and place over medium heat. Stirring constantly with a wooden spoon, cook until it thickens, about 6 minutes. Do not boil. Remove from heat, let cool, and whisk in Icewine, butter, cookie powder and ground almonds. Pour mixture into loaf pan. Refrigerate until set.
To unmould, dip loaf pan briefly in a large container filled with hot water, then quickly tip upside down to release cake. For the icing, melt chocolate in a bowl over a simmering pot of water. When melted, remove from heat and add cream. Whisk and carefully pour on top of cake. Serve with chilled Cabernet Franc Icewine