2022 Inniskillin Cabernet Franc Icewine 375ml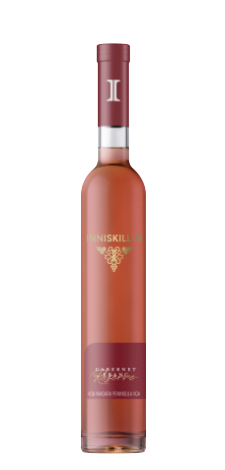 Wine Profile
Tasting Notes
Characteristics of strawberry, raspberry and rhubarb dominate the nose while the palate shows a robust concentration of red fruits as well, all of which complemented by a well balanced acidity. Pairs well with chocolate or chocolate mousse and red fruit based desserts or simply strawberries and cream!
Vineyard Notes
With the early onset of below seasonal temperatures, many Niagara wineries took advantage of harvesting Icewine grapes on November 12th, the earliest date recorded by VQA Ontario. At Inniskillin, we opted for more ideal conditions and began harvest on December 18th, when the bulk of our grapes were picked. Our harvest wrapped up on February 8th/9th, 2020.
Production Notes
The grapes for this Cabernet Franc Icewine were harvested from select vineyards throughout the Niagara Peninsula at a frigid temperature of -10 C. Pressed immediately the viscous juice was cold settled for 7 days before racking and inoculating. Fermented cool for approximately 21 days the resulting wine was filtered and transferred to a stainless steel tank to await bottling.
Winemaker Notes
This decadent Niagara Peninsula Icewine shows an abundance of rhubarb, and raspberry aromatics, with plenty of flavours of cherry, and strawberries and cream. This wine shows a beautiful balance of richness and acidity.
Food Pairing Notes
Salted dark chocolate; chocolate mousse with stewed or fresh berries; traditional strawberry, rhubarb pie; porcini dusted rib eye.
Product Reviews
Selina
(Sep 8, 2013 at 3:07 AM)
I have nothing to say bu excellent. Both me and my mom love it! It do tastes wonderful.
Cynthia Evnas-Herr
(Jan 1, 2016 at 1:33 PM)
An ordinary day is made special after a sip of 2013 Inniskillin Cabernet Franc Icewine.
Cynthia Evans-Herr
(Jan 1, 2016 at 1:37 PM)
An ordinary day is made special after a sip of 2013 Inniskillin Cabernet Franc Icewine.
Matt Steeves
(Dec 28, 2017 at 7:13 PM)
Iconic Canadian winery, Inniskillin, is world renowned for their luxurious Icewines, and their Cabernet Franc Icewine is the best of the best! Rich and refreshing, with incredible complexity and perfect balance, it bursts with layers of brandied cherry, stewed plum and rhubarb, and the sweetest red strawberries you've ever tasted. Luscious with precise acidity that is the hallmark of the finest Canadian Icewines. Enjoy 2017-2030. Tasted December 2017. 96+ points. Matt Steeves – www.quercusvino.ca
Shawn
(Jan 9, 2018 at 6:25 PM)
My friend from China ask me for help to buy this ice wine. She said this one is very popular in China. Hope you can open official store in Taobao.