Warm Beet Salad with Charred Mushroom Vinegar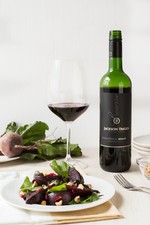 Recipe Date:
April 28, 2016
Measurements:
Imperial (US)
Ingredients
9 medium sized beets, tops on
Salt & pepper to taste
1 small red onion, finely diced
1/2 cup hazelnuts, toasted and chopped
4 tbsps olive oil
3 stalks rosemary, picked and chopped
2 cups mushroom stems (preferrably shiitake)
2 cups seasoned rice vinegar
1/2 cup soy sauce
Directions
Preheat oven to 400ºF. Cut the stalks and leaves off of the beetroot. Remove the stalks from the leaves then cut the leaves into bite sized pieces. In a pot, cover beets with cold water and cook until fork tender. While warm, wipe the skin off of the beets using a kitchen towel or paper towel. Allow to cool then cut into wedges. Toss the cut beets with olive oil, salt and pepper. Place in a high sided roasting pan. Roast the beets for 10 minutes then remove from oven. While warm, mix through the beet greens, mushroom vinegar, red onion and rosemary. Transfer to a serving dish and top with hazelnuts.
Mushroom Vinegar
Over high heat grill or pan, sear the mushroom stems until a medium char exists. Mix together the soy sauce, vinegar and stems. Place in a covered container. Allow to sit for at least two days before using.