Truffled Cream of Cauliflower Soup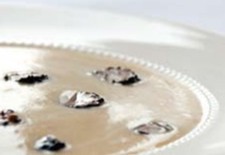 Recipe Date:
July 26, 2012
Measurements:
Imperial (US)
Ingredients
3 tbsps extra virgin olive oil
3 tbsps unsalted butter
4 silces pancetta, chopped
1 medium onion, chopped
1 head of cauliflower, washed and roughly chopped
4 cups chicken stock
1 truffle, sliced very thinly with a truffle shaver or mandolin
4 tbsps all-purpose flour
1 cup light cream
4 drops truffle oil
salt and freshly ground white pepper to taste
Directions
Heat the oil and butter in a stock pot and cook the pancetta until it is crisp. Add the onion and cauliflower and cook for 10 minutes. Add the stock and half the truffle slices, bring to a boil and simmer for an additional 10 minutes. Remove from heat and cool enough to handle. Purée in a blender. Return soup to pot and heat over medium-low heat.

Mix the flour and cream until very smooth. Add to the soup very slowly, stirring constantly. Simmer for 6 to 8 minutes and season to taste with salt and pepper.
Ladle soup into 6 individual soup bowls and garnish with remaining truffle slices. Drizzle with a few drops of truffle oil and serve warm.