Roasted Herb Brined Pork Loin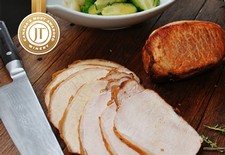 Recipe Date:
November 1, 2013
Measurements:
Imperial (US)
Ingredients
3 lbs boneless pork loin
16 cups water
1 cup salt
1/2 cup sugar
3 tbsps whole peppercorns
1 garlic bulb, cut through the centre
1 lemon, cut through the centre
3 bay leaves
1 bunch of thyme
1 bunch of parsley
Directions
Combine water, salt, and sugar in a large pot. Bring to a boil to dissolve salt and sugar. Add in remaining ingredients, remove from heat and let cool completely. When brine is cold, add pork loin and refrigerate for 12 hours*. Remove loin and rinse well under cold water. Dry with kitchen towel. Return loin to fridge uncovered for 1-12 hours to ensure brine is evenly distributed before roasting. Preheat oven to 350°F. Roast until internal temperature reaches 150°F for medium or 170°F for well.
*Please note that the cook time mentioned above does not include the brining or refrigeration of the pork. Please allow up to 12 hours for each of these steps.