Pulled Pork with Red Wine BBQ Sauce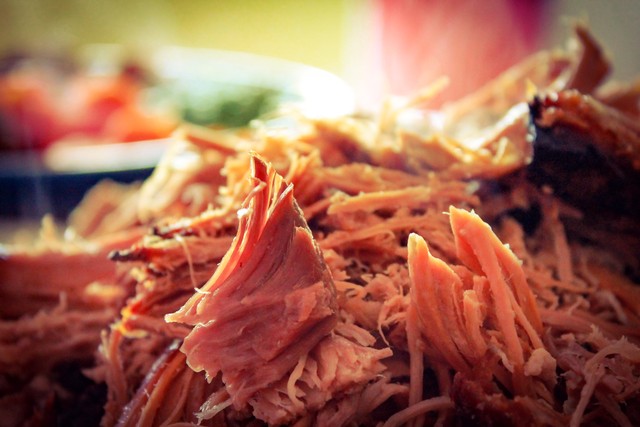 Recipe Date:
February 5, 2021
Measurements:
Imperial (US)
Ingredients
3 lbs Pork Shoulder Roast (chopped into 1lb chunks)
1 cup red wine
1 cup ketchup
1/2 cup molasses
1 tsp hot sauce
1 cup red wine (reduced by half)
4 tbsps paprika
4 tbsps brown sugar
2 tbsps kosher salt
2 tbsps chili powder
2 tbsps oregano
1 tbsp cumin
1 tbsp fennel seed
1 tbsp caraway seed
1 tbsp garlic powder
1 tbsp onion powder
Directions
BBQ Spice Rub
Thoroughly combine dry ingredients. Store remaining rub in an air-tight container for up to 1 month.
Red Wine BBQ Sauce
Thoroughly combine ketchup, molasses, hot sauce, red wine reduction and half of the spice rub mixture.
Rub Pork Shoulder with HALF of the BBQ Spice Rub. Place into a roasting pan or dutch oven. Add red wine. Cover and cook in oven at 300°F for 3-4 hours. Remove from oven and "pull" pork into strands. Toss with red wine BBQ sauce. Serve in in tacos, as a sandwich, or however you prefer!