Icewine Infused Cranberry Boats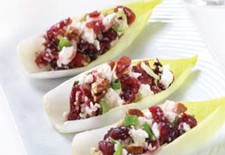 Recipe Date:
April 11, 2011
Measurements:
Imperial (US)
Ingredients
1/2 cup dried cranberries
1/3 cup Vidal Icewine, divided
1 green onion, very thinly sliced
1/2 tsp fresh rosemary, finely chopped
1/2 tsp coarsely ground black pepper
1/4 tsp fresh garlic, minced
1 cup crumbled chevre or stilton
24 belgian endive or trevisio leaves (about 2 heads)
flat leaf parsley (optional)
Directions
Place the cranberries in a small saucepan, set over low heat. Add 1/4 cup of the Icewine and heat until steaming hot. Let stand for 15 minutes or until cooled to room temperature.
Toss the pecans with the green onion, rosemary, pepper and garlic until combined. Add the cranberries and any juices in the cup to the pecan mixture; toss to combine. Add the cheese and remaining Icewine; toss gently to blend ingredients. (This mixture can be made up to 6 hours in advance if tightly covered and refrigerated until serving)
Separate the Belgian endive into individual leaves (discard very small leaves and hearts) and arrange on a platter. Spoon an equal amount of the cheese mixture into each leaf. Garnish with parsley leaves (if using).
Developed by Dana McCauley & Associates