Deviled Easter Eggs With White Truffle & Chive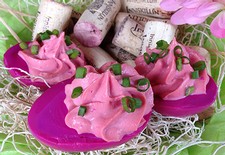 Recipe Date:
April 1, 2015
Measurements:
Imperial (US)
Ingredients
1 cup red wine vinegar (for pickling)
1 tsp red wine vinegar (for filling)
1 beet, finely grated
2 cups water
1 cup full bodied red wine
1/4 cup salt
1/2 cup sugar
1 tbsp mustard seeds
1 tbsp coriander seeds
1 tbsp whole black pepper
2 bay leaves
1/2 small red onion, sliced
12 hard boiled eggs
1/4 cup mayonnaise
1 tsp Dijon mustard
1 tsp white truffle oil
chives, sliced
Directions
Red Wine Pickled Eggs
In a medium pot combine the red wine, 1 cup of red wine vinegar, salt, sugar, bay, coriander seeds and mustard seeds. Place over high heat and bring to a boil. This will dissolve the sugar and the salt. Remove from heat and cool slightly, then pour over the onions, beets and eggs. Let the pickle marinade for 7 days before use.
Deviled Easter Eggs With Truffle & Chive
Remove the pickled eggs from the brine and dry with paper towels. Slice the eggs in half lengthwise. Remove the yolks and place in a medium bowl. Placing the whites, cut side up, on a serving platter.
Using a stiff whisk, mash the yolks into a fine crumb. Add mayonnaise, 1 tsp of red wine vinegar, mustard, truffle oil, salt and pepper. Whisk until well combined. Spoon or pipe the truffle yolk mixture into the egg whites. Sprinkle with chives to garnish.
*Cook time does not include brining time of 7 days.