Beef Stroganoff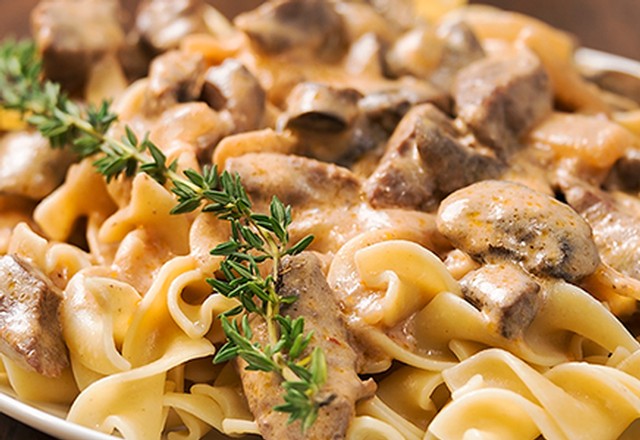 Recipe Date:
January 14, 2020
Measurements:
Imperial (US)
Ingredients
1/4 cup olive oil
2 lbs stewing beef
2 white onions, sliced
5 cloves garlic, minced
10 button mushrooms, sliced
2 cups 35% cream
1 cup Jackson-Triggs Reserve Chardonnay
2 bay leaves
12 ozs package egg noodles, blanched
Directions
In a large pot, add olive oil and put on the stovetop on high. When the oil is hot, carefully add stewing beef, and season with salt and pepper. Cook to Medium-Rare, remove beef from pot and set aside.
Reduce heat to medium and add onions. Stirring often, cook until translucent. Add garlic and cook for approximately another 2 minutes. Add mushrooms and cook for another 5 minutes, stirring every minute.
Carefully add Chardonnay and reduce on medium heat until only a few tablespoons remain. Add the cream and bay leaves. Reduce until thick enough to coat the back of a spoon. Season with salt and pepper.
Add the reserved beef and egg noodles to the cream sauce. Check seasoning and serve.