Beef Carpaccio With Baby Arugula & Shaved Asiago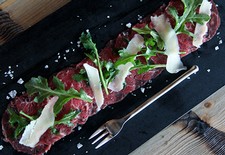 Recipe Date:
August 31, 2010
Measurements:
Imperial (US)
Ingredients
1/2 lb beef tenderloin
1/2 cup baby arugula
1 tbsp extra virgin olive oil
1/4 tsp fleur de sel (sea salt)
a few shavings of good quality asiago
salt and pepper, to taste
Directions
Place beef tenderloin in the freezer for about 20 minutes until firm but not frozen. Using a carving knife slice thin sheets of meat cutting against the grain. If pieces are two thick you can use a rolling pin or meat mallet to thin out. Place thinly sliced beef on a plate, garnish with arugula and shaved cheese. Drizzle with olive oil and sprinkle with salt and pepper.

Pair with a full bodied red wine & enjoy!