Asian Braised Pork & Miso Ramen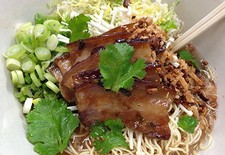 Recipe Date:
January 12, 2015
Measurements:
Imperial (US)
Ingredients
3 cups good quality miso soup (can be substituted with chicken broth)
6 cups cooked ramen noodles
1 Ontario pork belly
1/4 cup salt
1/4 cup sugar
2 tbsps black pepper
2 tbsps five-spice powder
optional garnishes: sliced cabbage, green onions, poached eggs, peanuts, etc.
Directions
Miso Ramen
In a large pot heat the miso broth. Add the noodles to the hot soup. Ladle into a large soup bowls. Top with the sliced pork belly and your favourite garnishes.
Asian Brasied Pork Belly
Mix together salt, sugar, 5 spice and pepper. Rub the pork belly and allow to cure overnight in the refrigerator. Preheat your BBQ to high setting. Grill the belly for 2-3 minutes on both sides or until seared. Remove from the grill and place in a roasting pan.
Preheat your oven to 300 degrees fairenheight. Whisk together the remaining ingredients in a large bowl then pour over the belly. Cover the baking dish with a lid. Place in the oven for 3 hours or until the belly is just tender.