Saintly | the good sparkling
VQA Niagara Peninsula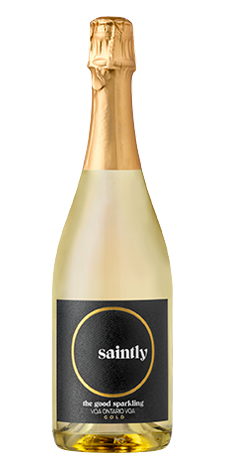 A clean, crisp palate with aromas of citrus, peach, pear, and slight floral notes.
Food Pairings: Excellent paired with creamy cheeses, fresh fruit, or just by itself on a hot day
R/s: 10g/L
Wine Profile
Production Notes
The grapes were picked at optimal sugar levels for sparkling and were gently pressed right away once arriving at the winery. Juice was clarifi ed and components fermented separately in order to achieve maximum aromatic intensity from each component. Secondary ferment in charmat tanks to capture the bubbles took place over a two week period at 15-16c with an extended period of lees contact post secondary ferment.
Winemaker Notes
The nose has notes of lemon, lime, peach, pear, red apple, and slight floral notes. The palate is clean and crisp with a delicate yet rich mouthfeel thanks to extended lees contact post secondary fermentation in charmat tanks.
Product Reviews