OPEN Smooth Red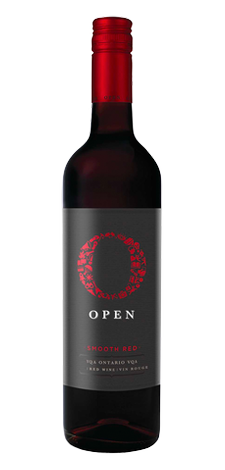 What it tastes like
Ripe red berries
Candied cherry
Raspberry
Chocolate
What it goes with
Tomato basil pasta
Blue cheese BBQ burger
Chickpea stew
Product Reviews
Hernando Serrano
(Jun 16, 2020 at 2:05 PM)
Unbelievable taste and aroma. This will turn into my second marriage. Perfect wine, congrats and keep the great work
Andrea E
(Sep 18, 2020 at 2:23 PM)
My Go-To wine
Ron deVos
(Oct 9, 2020 at 5:43 PM)
After having been away from wine for quite some time, I am exploring the various offerings. So far this is the best that I have discovered and I love the taste. I drink it as a sipping wine when I am relaxing and not with any food.
Peter
(Oct 19, 2020 at 4:25 PM)
I must know what winery was actually involved in this wine.... so I can avoid it. This was not a good experience at all!
Frank Cirello
(Mar 28, 2021 at 3:34 PM)
Nice balance and bouquet. One of the best wines at this price point.
Leesa G
(Jun 9, 2021 at 2:40 PM)
My new FAV ! (also hubby Loves it too)
Luciana
(Sep 29, 2021 at 7:22 AM)
Easy drinking. Great for just sipping. My go-to when I just want a glass of wine and nothing else.
George
(Dec 4, 2021 at 9:23 AM)
Excellent
Samanta
(Apr 23, 2022 at 6:18 PM)
I always have one at home! Very smooth tasty, and with a reasonable price.
Harold Hordeychuk
(May 27, 2022 at 4:18 PM)
I am normally not a big fan of red wines but after tasting this one you may have a convert.It is by far the smoothest red wine I have ever tasted.Excellent
Gabriel Popescu
(Sep 28, 2022 at 5:16 PM)
This is the Best tasting wine I have come across in a long time.
George S
(Oct 22, 2022 at 9:15 PM)
I started on blood pressure medication and decided not to drink any alcohol for a bit. The side affects didn't seem worth the risk. The more I read it seemed maybe moderate to light might be okay. Then I remembered my doctor said red wine would actually be good for me. This wine is worth the risk and definitely beneficial to my health. It's even better than when I discovered it a few years ago. Thank you Open Wines for an outstanding wine. Smooth? Mmmm, yes!
Sean F
(Nov 23, 2022 at 4:52 PM)
One of my favorite smooth red wines. Some may find it a bit sweet, but you won't know until you try.
Johnny
(Mar 16, 2023 at 5:13 PM)
I'm writing this as I'm drinking it, for the 1st time with my usual chicken & rice meal (please make me stop working out)... Finally a red that doesn't make the chicken taste like rubber & the rice taste like plastic (Gym rats know what I mean lol)