Jackson-Triggs Reserve Sparkling Moscato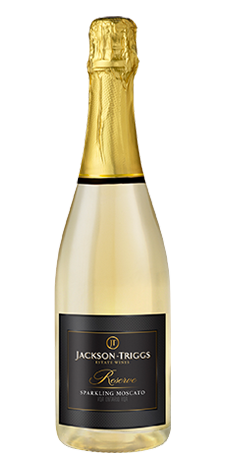 Wine Profile
Tasting Notes
This wine is intense and expressive, bursting with tropical, floral and citrus aromas. The palate is lush and flavourful with a delicate effervescence. This sparkling wine is full and balanced with a defined sweetness, yet crisp with fresh acidity. The wine is immensely fruit forward and overflows with flavours of lively citrus fruits, juicy pineapple and ripe peach and a smooth and lengthy finish.
Production Notes
The fruit for this varietal expresses sparkling Moscato, comes from Niagara's Four Mile Creek appellation. The fruit was destemmed and left on skins for 8 hours prior to pressing. The wine was then cold fermented at 13 degrees for 10 days in pressurized Charmat tanks to retain the effervescence and flavour.
Winemaker Notes
Notes of white peaches, lychees, rose hip, lilac, apricots and honeysuckle. The palate is elegantly balanced with a striking length. What you get on the nose follows through on the palate in abundance.
Food Pairing Notes
The beauty of this wine is it's versatility. Try it with spicy curries, salami wrapped melon and figs, charcuterie of prosciutto, almonds and chili seeds, crisp, raw crudités, and soft, creamy Brie cheese. Perfect complement to Crème Brulee and vanilla ice cream.
Product Reviews
Karen Holt
(Jan 19, 2016 at 10:16 AM)
An amazing refreshing drink whether you are celebrating in the Summer or the coldest day of the year
Amelia P
(Jul 1, 2016 at 12:01 PM)
Light, airy, refreshing. A flavourful sparkling perfect for any occasion
Monica L
(Aug 20, 2016 at 2:12 PM)
My all time Fav!!!
A Dwyer
(Jan 13, 2017 at 12:13 PM)
Can't get enough of this sparkling. A perfect wine for any occasion!
Sonia N
(Apr 24, 2017 at 5:48 PM)
Absolutely love this Sparkling Moscato. I would rate this 10++++. You just have to try this amazing wine.
Amit
(Feb 25, 2018 at 7:52 AM)
Blown away did not expect it to be that good. I get the same reaction from everyone that I give it to!
Elizabeth
(Feb 19, 2019 at 7:01 AM)
One of the best Moscatos I have had! Delicious!