2019 Jackson-Triggs Reserve Vidal Icewine 375ml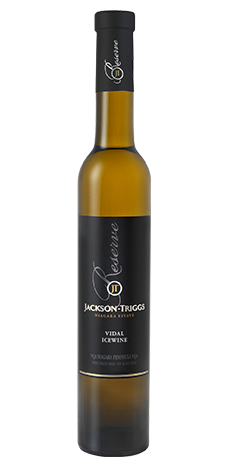 Wine Profile
Tasting Notes
This richly textured wine displays fresh tropical aromas of papaya, mango and apricot. Bold fruit flavours balanced with fine acidity caress the palate with an exquisite silky finish.
Production Notes
The juice was pressed immediately upon arrival at the winery and then settled and fermented cool, with yeast specially selected to endure the tough conditions presented by the high sugar levels in the Icewine juice. The fermentation was stopped when the perfect balance of alcohol and residual sugar was reached, after which the finished wine was immediately bottled to ensure optimum aromatic and flavour intensity.
Winemaker Notes
Nectar-like in both flavour and texture, this Icewine boasts delectable notes of apricot and honeysuckle, which are perfectly complemented by ripe peach and citrus zest. The lush and creamy mouthfeel is perfectly supported by a vibrant, fresh acidity, while flavours of lemon candy linger on the finish.
Food Pairing Notes
Perfect when paired with savoury dishes like Icewine seared scallops, sushi and spicy Thai dishes. Try is with fresh fruit, or cheeses such as triple cream Brie, goat's cheese or salty Parmesan.
Product Reviews
Yessenia Lazo
(Sep 11, 2011 at 1:10 AM)
awesome!!!!
pamela
(Dec 25, 2015 at 8:36 PM)
Enjoyed the after dinner drink. Question can the wine be placed back in the freezer once it has been opened?
Evsteel
(Jan 15, 2016 at 5:07 AM)
This is the absolute perfect blend of flavor and texture. My rating for this wine should be a 7 because it is the best wine I have ever tasted. I now know what people mean when they say "Fine Wine". 3 Words........ Get a bottle
Tomahawkcounty
(Aug 1, 2021 at 12:00 AM)
Beautiful and full-flavored, this icewine I can spend sone time just with the nose, a tropical fruit I can't identify. The sweetness and acidity feel integrated and the overall flavor has a point of focus that is outstanding and satisfying. I will be picking up a few more of these. 96 pts.