2021 Jackson-Triggs Reserve Meritage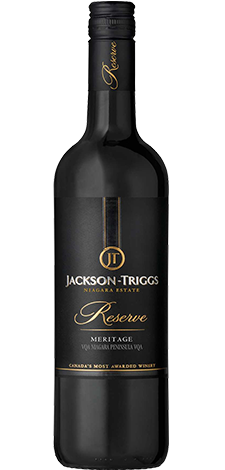 Wine Profile
Tasting Notes
The Reserve Meritage has a wonderfully balanced taste of rich, red fruit, plum and oak flavours with solid acidity and a long, smooth finish. Hints of chocolate and spice on the nose make this wine a delicious, well-rounded wine.
Production Notes
This is a blend of Cabernet Franc, Merlot, and Cabernet Sauvignon. The long ripening period for each of these varieties offers consistently great depth and character and complexity in the resulting wines. All the grapes were picked at perfect maturity. The varieties were fermented separately in order to create three distinct wines that would eventually be blended, prior to bottling. The grapes were picked, carefully crushed, and sent to tank to cold soak for 48 hrs. Before bottling, the final blend was composed using each variety's intrinsic characteristics to create a well-rounded wine.
Food Pairing Notes
The 2018 Reserve Series Meritage is an extremely versatile wine that can pair well with BBQ ribs, ravioli, pulled pork and pizza.
Product Reviews