Jackson-Triggs Reserve Cabernet Franc/Cabernet Sauvignon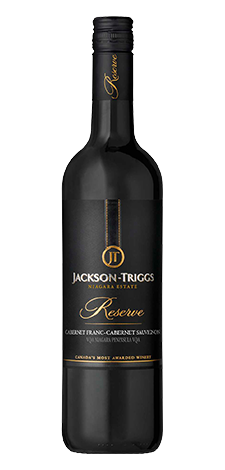 Wine Profile
Tasting Notes
This Cabernet Franc and Cabernet Sauvignon blend has a beautifully complex nose and palate overflowing with violet floral notes rounded out by both chocolate and
vanilla aromas. The palate is bursting with rich oak and fruit flavours noted as dark cherry and juicy red apple.
Production Notes
A blend of Cabernet Franc and Cabernet Sauvignon, the grapes for this wine were harvested and vinified separately, with each varietal being cold soaked with the skins for two days to increase extraction of flavour and colour. The juice was warmed to start fermentation with carefully selected yeast strains. The wine was gently pressed and malolactic fermentation was completed in tank, followed by oak aging for approximately 6 months prior to blending, where Cabernet Franc was chosen to play the more predominate role.
Food Pairing Notes
The Reserve Select 'Cab-Cab' is the perfect choice to serve with rich, hearty dishes. Try it with Port-braised beef shortribs, Asian style barbecued lamb or beef tenderloin with blackberry sauce. Ideal with cheeses like old Cheddar, Gouda, Emmental, Gruyere, Reggiano and Asiago.
Product Reviews
Byron Perrine
(Aug 28, 2017 at 8:37 AM)
I was first introduced to this wine as the "house red" at Queen Victoria Place Restaurant, Niagara Falls, ON. I couldn't believe it... a most wonderful wine that compares to my favorite... a red produced and sold only in Moreno, Italy. Now I have two favorites. This is not your usual "house red" by any means. It's a great dry red with a spicy finish.
Andrea
(Feb 1, 2021 at 5:42 PM)
We served this wine as one of 4 options in a blind wine tasting for a group of 10 friends. It was the least expensive wine of the 4 and was chosen as the best wine by 8/10 people. We buy it by the case now.