2021 Inniskillin Niagara Estate Series Meritage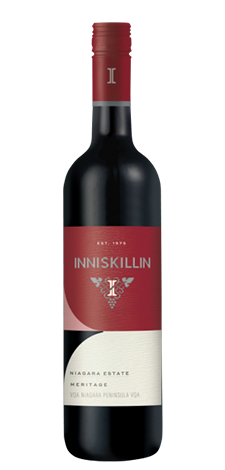 Case Sale Pricing
6 or more units
$17.95/unit
Wine Profile
Tasting Notes
This red blend harnesses the best of the Bordeaux varieties in a blend that showcases the vintage very well. Bright berry fruit is accentuated by vanilla and spice notes from oak aging. The wine's palate is rich and structured with lovely, balanced tannins.
Vineyard Notes
The 2021 Niagara harvest started on August 26th, one day to prior to the previous year. September began with typical seasonal conditions without high humidity. Following the harvest of red hybrids grapes used for blending and sparkling wine grapes, the early vinifera grapes like Chardonnay, Pinot Noir, and Sauvignon Blanc showed great potential. Late September brought about a pattern of rain, drizzle, and fog that delayed fruit maturity and slowed down the harvest. Work continued when weather allowed, but conditions were challenging. Growers were forced to drop a large quantity of fruit, but with persistence the quality of harvested grapes remained high. Harvest finally wrapped on December 3rd, making it the longest running and largest harvest in memory.
Production Notes
All grapes for this traditional red blend of 74% Cabernet Franc, 25% Merlot and 1% Cabernet Sauvignon, were picked, fermented and aged separately. Chosen from select vineyards throughout the Niagara Peninsula the grapes were cold soaked for 48 hours before inoculating and fermenting in stainless steel to dryness. Aged with both French and American Oak, the wine was allowed to age for 8 months before racking to stainless steel and blended.
Winemaker Notes
This Bordeaux blend features aromatics of bright fruit, spice with a touch of clove. It exhibits rich and robust currant flavours and with well integrated vanilla and toasted oak notes on the finish.
Food Pairing Notes
Try this wine with mushroom soup with goat cheese; roasted root vegetables; flat iron steak; smoked pulled pork or ribs; roasted turkey; strong flavoured hard cheeses and dark Ecuadorian chocolate.
Product Reviews
David Somoo
(Aug 16, 2015 at 7:16 AM)
Bought this amazing wine on a visit to the Niagara Estate and drank back in London. One of the best reds I've tried.
Mary Kortsen
(Jan 13, 2017 at 11:12 AM)
I bought this on a visit to the Niagara winery in Oct 2015. Just opened it and it is wonderful! Ordering 4 more bottles.
Angelina P
(Nov 3, 2017 at 2:02 PM)
FInniskillin is the first Meritage I have tasted, one of the smoothest reds wines I have had.
mateo rafael polanco
(Sep 8, 2020 at 1:42 PM)
Bought this wine when I visited Niagara Falls in August 2019. I opened it yesterday at a birthday party and WOW it was great. Everybody loved it.