2022 Inniskillin Discovery Series P3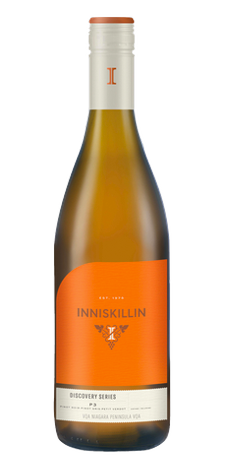 Wine Profile
Tasting Notes
Artistically crafted, this unique blend of varietals (Pinot Gris, Pinot Blanc, and Pinot Noir) provides citrus notes of lemon and lime, along with floral notes and a touch of vanilla. The palate shows flavours of green apple and peach balanced by a crisp, refreshing acidity.
Production Notes
The grapes for this unique Pinot Gris, Pinot Noir and Pinot Blanc blend came from select vineyards throughout the Niagara Peninsula. Crushed and gently pressed the juice was fermented separately in stainless steel for approximately 12 days at a cool 15C thus maintaining the wines varietal expression. A touch of residual sweetness remains to balance the wine's natural lively acidity.
Winemaker Notes
Our P3 is a blend of 46% Pinot Noir, 43% Pinot Gris and 11% Pinot Blanc. Strawberry and rhubarb dominate the aromatics and palette on the popular wine.
Food Pairing Notes
Pairs well with pasta with shrimp, veggie burger with smoked gouda cheese and thin crust Hawaiian pizza.
Product Reviews
Jacques Mainguy
(Oct 2, 2013 at 3:52 PM)
We were with Philippe Lapeyrie and we bougent this Wine P3 : pinot noir/pinot gris/pinot blanc. Everyone here adore this Wine. We would l'île to but morte and more but we are living in Québec . Pléiade it is so good we Walt at least 24 bottles. How do we do ?
Natalie
(Jan 25, 2015 at 3:24 PM)
Exquisite!
Robert Cooper
(Mar 13, 2016 at 5:42 PM)
One of my favourite whites. So glad it's available at Metro now!GXacYd
Leslie MacPhee
(Mar 17, 2016 at 8:36 AM)
We had this wine last night for the first time.Best product yet can't say enough about the wine.
Christine Dobbin
(Apr 15, 2017 at 9:59 AM)
me and my mother try and get a new bottle of wine each weekend. this was our choice for Easter weekend. we had never heard of a blend of both red and white grapes and so took a chance. boy were we glad we did. absolutely excellent and will definitely purchase again :)
Edie
(Oct 11, 2018 at 12:06 PM)
Sold out at Sobeys, need to find more! Really good wine, don't want to buy anything else!
Jenn VALERI
(Mar 27, 2020 at 2:27 PM)
Absolutely delicious, hope more is made
Cheryl Atkinson
(Dec 26, 2020 at 10:25 AM)
I'm enjoying the wines. I will continue to look for new wines.