2022 Inniskillin Cabernet Sauvignon Icewine 375ml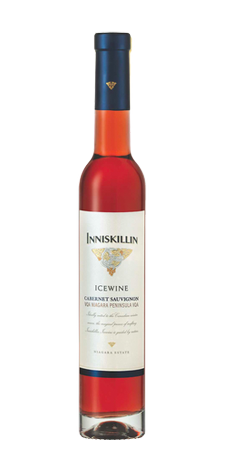 Wine Profile
Vineyard Notes
With the early onset of below seasonal temperatures, many Niagara wineries took advantage of harvesting Icewine grapes on November 12th, the earliest date recorded by VQA Ontario. At Inniskillin, we opted for more ideal conditions and began harvest on December 18th, when the bulk of our grapes were picked. Our harvest wrapped up on February 8th/9th, 2020.
Production Notes
The grapes for this Cabernet Sauvignon Icewine were harvested from Klose vineyards in the Niagara Peninsula at a frigid temperature of -10 C. Pressed immediately the viscous juice was cold settled for 10 days before racking and inoculating. Fermented cool for approximately 25 days and the resulting wine was aged on oak, filtered and transferred to a stainless steel tank to await bottling.
Winemaker Notes
The abundant aromatics of cherry and raspberry perfectly complement the rich and concentrated flavours of rhubarb, strawberry and heavy-cream in this complex well balanced Icewine.
Food Pairing Notes
This red icewine goes well with deserts such as; rich Chocolate Fondue, Raspberry Mouse or a beautifully creamy strawberry cheese cake.
Product Reviews
Matthew Steeves
(Mar 23, 2019 at 10:43 AM)
Iconic Canadian winery, Inniskillin, is renowned for their luxurious Icewines as they consistently deliver the most impressive style of sweet, full bodied, richly textured, and incredibly refreshing (dessert) wine that's sought after in the finest dining establishments around the world.
Their 2017 Cabernet Sauvignon Icewine, a first for this varietal at Inniskillin, is the finest Icewine I can recall ever tasting from this winery, or any other producer, ever!
Harvested December 14th, at -10C, and pressed immediately following at that same freezing cold temperature, the grapes displayed vibrant and richly concentrated ripe fruit characteristics from an extended but not overdone hang time, with that rich/freshness carrying through to the finished wine thereby further contributing to the observed paradoxical rich sweetness with mouthwatering acidity - they've achieved textural nirvana! Imagine baked strawberry-rhubarb pie, vanilla scones with strawberry compote smothered in chilled vanilla whipped cream and topped with brandied cherries...The flavor and creaminess of this perfectly balanced Icewine is sublime. The finish lasts for minutes with more strawberry-rhubarb pie flavours persisting and inviting rich chocolate desserts, baked pie, or aged cheese to complement this outstanding wine experience. It's confirmed, this is the finest Icewine I've tasted and one that will blow your mind now and over the next two decades! Enjoy. Tasted February 2019. 99-100 points. Matt Steeves - www.quercusvino.ca