Red Wine Chocolate Cake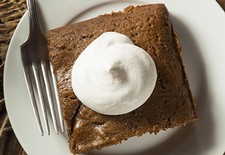 Recipe Date:
February 4, 2015
Measurements:
Imperial (US)
Ingredients
1/2 cup softened butter
1/2 cup sugar
2 eggs, beaten
1 cup red wine
1/2 cup flour
2 tsps dark cocoa powder
1 tsp ground cinnamon
1 tsp baking powder
1/2 tsp ground clove
1/2 cup dark chocolate, finely grated
Directions
Preheat your oven to 325°F. Grease a 20cm x 20cm (8"x8") baking pan.
Bring the wine to a boil in a medium saucepan over high heat. Reduce until roughly 1/3 cup remains. Remove from heat and allow to cool to room temperature.
In a large bowl, sift together the flour, cocoa, baking powder and spices. In a separate bowl, mix together the butter and sugar until pale and fluffy. Use either a stand mixer or electric beaters. Add in the beaten egg a little at a time. Be sure to fully incorporate the egg in between additions. Pour in the reduced red wine and mix until fully combined.
Next fold the dry ingredients into the butter, egg, sugar and red wine mixture. Use your largest available spatula to do so. When well combined, fold through the grated chocolate and pour the batter into your prepared baking pan.
Bake for roughly 30 minutes or until a wooded skewer inserted into the center of your cake comes out clean. Cool on a wire rack, then top with your favourite icing.