2020 Jackson-Triggs Grand Reserve Shiraz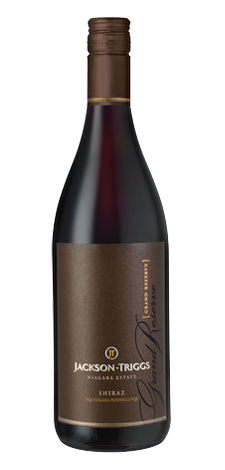 Wine Profile
Tasting Notes
The Grand Reserve Shiraz is full and rich on both the nose and the palate. Red fruit and cherry complement the well integrated oak notes, backed up by chocolate and mocha aromas. On the palate, this wine exhibits bold flavours of cherry and coffee with good weight, rich mouth feel and a lingering finish.
Vineyard Notes
The 2020 harvest was, in effect, early. Harvest dates for each variety were largely notably earlier than what is considered the norm. Autumn was brilliant with warm, sunny days and nominal rainfall, ideal conditions for harvest. While yields were slightly short on all varieties, the overall quality was excellent. The perfect weather conditions allowed the grapes to develop phenolic ripeness without breakdown. Not unexpectedly, these conditions contributed significantly to an exceptional vintage that yielded wines with high sugars and low acids.
Production Notes
This Shiraz was picked at perfect maturity; the fruit was carefully crushed and sent to the tank to cold soak for 72 hours. The tanks were warmed to begin the 10 day fermentation with carefully selected yeast. The tanks were rotated to mix the skins 3 times daily, extracting colour and flavour before gently pressing and completing malolactic fermentation.
Winemaker Notes
Complemented by aromas of cracked black pepper and warm baking spices, lush blackberries and ripe black cherries - sweet tobacco and dark chocolate characters dominate the nose. The palate exhibits rich ripe blackberries, tar and charred wood, accentuated by ripe cherries and pungent peppercorn spice.
Food Pairing Notes
Pairs well with grilled ribeye steak with peppercorn sauce and arugula salad with fresh peppered strawberries.
Product Reviews
Shelley Gaudet
(Apr 25, 2019 at 12:57 PM)
Absolutely love this wine!!!
Sheri M.
(Oct 31, 2019 at 5:49 AM)
This is one of my favourite wines. Full bodied and rich. Yummy.