Red Wine Chili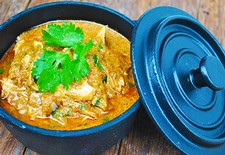 Recipe Date:
January 30, 2013
Measurements:
Imperial (US)
Ingredients
3 cups ground beef
4 cups onion, chopped
1 1/2 cups green pepper, chopped
2 tbsps garlic, minced
2 tbsps jalapeño, seeded and chopped
1 cup red wine
4 cups canned, diced tomatoes
2 cups canned red kidney beans
2 cups canned white kidney beans
4 tbsps olive oil
2 tbsps salt
1 tbsp pepper
2 tbsps chili powder
1 tbsp paprika
1 tsp ground coriander
1 tsp ground cumin
1/2 tsp dried thyme
Directions
Heat a large saucepan over medium high heat. When hot add in 2 tbsp of olive oil. Add the ground beef and cook for 2 minutes. Mix together a "spice blend" of chili powder, paprika, ground coriander, ground cumin, and dried thyme. Add in the "spice blend", turn the heat down to medium and season with salt and pepper. Cook until browned, stirring it constantly.
When cooked, remove from pot and strain off the excess fat into a small container. Add the reserved fat back to your large saucepot and return to medium heat. When hot add in the onion, garlic and peppers. Cook for 2 minutes then add in the remaining ingredients and the cooked beef. Stir well and bring to a simmer. Lower heat and cover; stirring occasionally, for about 1 to 1 1/2 hours. Adjust season with salt and pepper if necessary.

Pair with a rich and robust red such as Merlot, Cabernet Franc, or Meritage.