Inniskillin Red Wine Beef Stew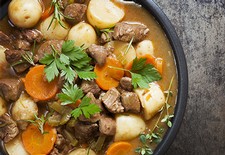 Recipe Date:
March 23, 2015
Measurements:
Imperial (US)
Ingredients
2 lbs beef short rib or chuck
1/2 cup butter
1/2 cup flour, seasoned with salt and pepper
1 cup red wine
2 1/2 cups beef stock
2 medium onions, finely diced
4 cloves garlic, minced
2 carrots, diced
4 ribs of celery, diced
3 medium potatoes, chopped
1 bay leaf
1 small bunch of thyme, chopped
1 small bunch of rosemary, chopped
Directions
Dice the beef into roughly 2 cm cubes, then toss with 1/2 cup of seasoned flour.
Heat 1/2 cup of butter in a large pot over medium high heat. When the butter begins to sizzle, add the beef and brown on all sides. Add onions and garlic. Cook stirring occasionally for 2-3 minutes.
Add beef stock, bay leaf and red wine. Place a lid over the pot and turn the heat to low. Gently simmer for roughly 2 hours or until the beef just begins to tenderize. Add carrots, potatoes and celery. Continue to simmer for an additional 30 minutes to cook the vegetables.
Add in the chopped herbs and adjust seasoning with salt and pepper.