2019 Inniskillin Niagara Estate Series Meritage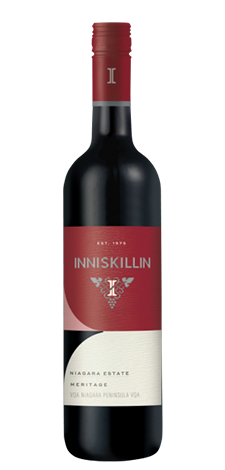 Case Sale Pricing
6 or more units
$17.95/unit
Wine Profile
Tasting Notes
Red berry, spice and vanilla are present on the nose of this blend. The palate is medium-full and approachable with red fruit and spice being the dominant flavours. The finish is clean and balanced showing delicate spice and floral components to the wine.
Vineyard Notes
A vintage that started off quite rapidly due to a mild winter and warm start to spring started to slow back to a normal pace in late spring which brought cooler temperatures. The cooler weather remained throughout the summer months with frequent bouts of rain, but was offset by plenty of warm sunny days mixed in. This combination allowed the vines to really flourish with a great blend of sunlight and water. The conditions in September and October were spectacular, with above average temperatures and ample sunshine, providing the 2017 harvest with slightly higher than usual yields of very high-quality fruit in both red and white varieties.
Production Notes
All grapes for this traditional red blend of 74% Cabernet Franc, 25% Merlot and 1% Cabernet Sauvignon, were picked, fermented and aged separately. Chosen from select vineyards throughout the Niagara Peninsula the grapes were cold soaked for 48 hours before inoculating and fermenting in stainless steel to dryness. Aged with both French and American Oak, the wine was allowed to age for 8 months before racking to stainless steel and blended. Throughout the Niagara Peninsula grapes from select vineyards were chosen to make this.
Winemaker Notes
This Bordeaux blend features aromatics of bright fruit, spice with a touch of clove. It exhibits rich and robust currant flavours and with well integrated vanilla and toasted oak notes on the finish.
Food Pairing Notes
Great bbq wine with grilled meats; steak with blue cheese butter; braised short ribs; pot roast; game meats with red fruit sauce; pear & blue cheese salad.
Product Reviews
David Somoo
(Aug 16, 2015 at 7:16 AM)
Bought this amazing wine on a visit to the Niagara Estate and drank back in London. One of the best reds I've tried.
Mary Kortsen
(Jan 13, 2017 at 11:12 AM)
I bought this on a visit to the Niagara winery in Oct 2015. Just opened it and it is wonderful! Ordering 4 more bottles.
Angelina P
(Nov 3, 2017 at 2:02 PM)
FInniskillin is the first Meritage I have tasted, one of the smoothest reds wines I have had.
mateo rafael polanco
(Sep 8, 2020 at 1:42 PM)
Bought this wine when I visited Niagara Falls in August 2019. I opened it yesterday at a birthday party and WOW it was great. Everybody loved it.