Cabernet Franc Stuffing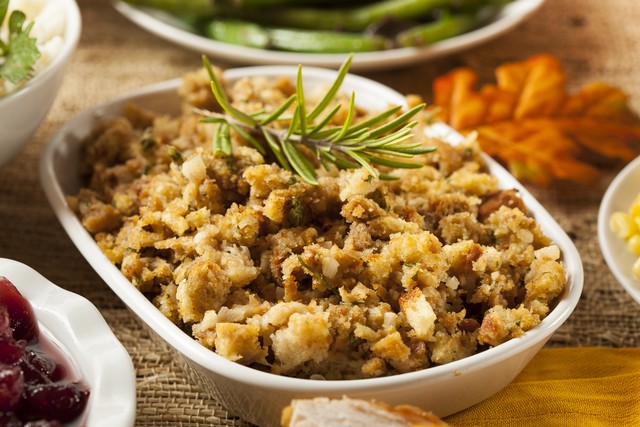 Recipe Date:
November 25, 2021
Measurements:
Imperial (US)
This easy stuffing recipe is sure to become your new holiday favourite. The addition of the wine to the stuffing adds richness and complexity and harmony between the plate and the glass.
Ingredients
1 Baguette
1 cup Butter, divided
1 Onion, finely chopped
4 Stalks of Celery, finely chopped
4 Cloves of Garlic, minced
2 tbsps Poultry Seasoning
3/4 cup Chicken or Turkey Broth
1/2 cup Inniskillin Niagara Estate Series Cabernet Franc
Directions
Cut the baguette into cubes and let dry on the counter overnight.
In a large sauce pot, heat 1/4 cup of butter over medium heat.
Once the butter begins to "sizzle" add in the onion, celery and garlic. Cook for 5 minutes or until just soft.
Add in our poultry seasoning and the remaining 3/4 cup of butter.
After the butter melts, remove your pot from the heat and transfer the cooked vegetable mixture into a large bowl. Add in the bread cubes, broth and red wine. Mix together with a wooden spoon.
Place the bowl of stuffing mix in the fridge and allow to cool completely before use.
When the stuffing mixture has cooled, stuff a 10-12 lb turkey and cook to your liking.
Alternatively you can bake in a buttered casserole dish at 350°F (175°C) for 30 to 40 minutes.