Cabernet Franc Rhubarb Crumble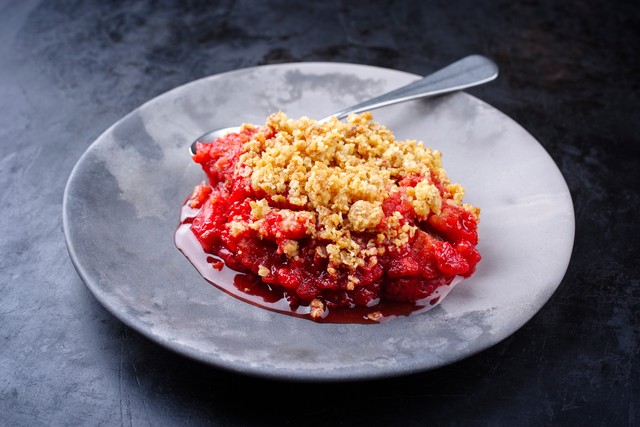 Recipe Date:
April 21, 2023
Measurements:
Imperial (US)
Ingredients
1 cup Flour
1/2 cup Brown Sugar
1/2 cup Oatmeal
1/4 cup Softened Butter
2 tsps Ground Cinnamon
2 cups Rhubarb, diced
1/2 cup Granulated Sugar
2 tbsps Cornstarch
1/4 cup Cabernet Franc Icewine
1 tsp Vanilla
Directions
In a large stainless-steel bowl, combine flour, brown sugar, oatmeal, softened butter and cinnamon and mix well.
In a medium pot, stir together sugar and Icewine. Bring to a boil over medium high heat. Mix cornstarch with 1 tbsp of cold water and add to boiling pot. Cook until thickened. Stir in the diced fruit. Spoon filling into 8" baking dish until roughly half full. Cover with topping. Bake at 350 degrees fahrenheit for 25 minutes.
Serve with Jackson-Triggs Grand Reserve Entourage Sparkling finished with Icewine for the perfect pairing!