Butternut Squash Flatbread With Bacon, Black Olive, and Goat Cheese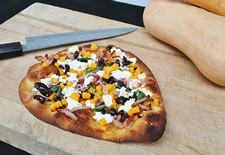 Recipe Date:
February 24, 2014
Measurements:
Imperial (US)
Ingredients
2 tbsps fresh sage, chopped
1/4 cup olive oil
1 clove garlic, minced
1 cup butternut squash, diced and cooked
1/4 cup kalamata olives, pitted
1/4 cup fresh goat cheese, crumbled
1/3 cup good quality bacon, cooked and chopped
Directions
Mix the olive oil and sage together then brush over the naan bread. Place on a sheet tray lined with parchment paper. Bake for 5 minutes to slightly cook the garlic. Remove from the oven and top with the squash, bacon, olives and goat cheese. Return to the oven for an additional 10 minutes to soften the cheese.

Pair with your favourite aromatic white. Try Pinot Gris/Grigio, Sauvignon Blanc, or Riesling.