Beef and Barley Soup with Niagara Root Vegetables and Norfolk Mushrooms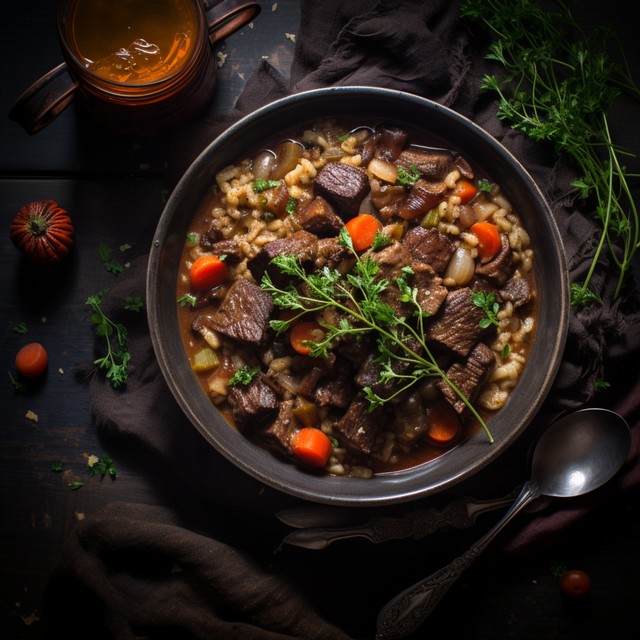 Recipe Date:
November 2, 2023
Measurements:
Imperial (US)
This old-fashioned beef-barley soup is a terrific recipe for using up leftovers. Other budget-friendly cuts of beef would also work well, such as chuck roast and stewing beef. Team with crusty rolls or baguette and a simple green salad and dinner is ready.
Ingredients
1 tbsp olive oil
1 onion, diced
2 cloves garlic, minced
2 carrots, diced
2 cups mushrooms, sliced
8 cups beef broth or beef braising liquid
1 cup cooked barley
2 cups diced beef short rib (previously braised or stewed until tender)
1 bay leaf
Directions
Pour the olive oil into a large pot and place over medium-high heat. When the oil is hot, add onions and garlic. Cook for 2-3 minutes, stirring constantly until softened. Next, add the carrots, celery and mushrooms. Season with salt and pepper. Cook the vegetables for 10 minutes stirring occasionally. Add broth, cooked barley, prepared short ribs and bay leaf. Cover and reduce heat to low; continue to simmer until vegetables are tender, approximately 20-30 minutes.

Recommended pairing: Pinot Noir and Cabernet Sauvignon blends.
Serves six as a starter.
*Please note that the cook time mentioned above does not include braising the beef and cooking the barley. Please allow adequate time for this step."