Ricotta & Tarargon Mousse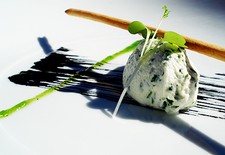 Recipe Date:
February 3, 2011
Measurements:
Imperial (US)
Ingredients
2 cups ricotta cheese
4 tbsps 35% cream
1 tbsp chopped tarragon
salt and pepper to taste
16 shallots, peeled and sliced into rings
1 cup olive oil
1 tbsp salt
1 tbsp sugar
1/2 tbsp black pepper
4 sprigs of fresh thyme
Directions
Mousse (2 1/2 cups)
Combine ricotta cheese, 35% cream, tarragon, confit shallots (recipe below), and salt and pepper in a food processor and blend until smooth. Chill and serve.

Confit Shallots (1 cup)
Place shallots, olive oil, 1 tbsp salt, 1 tbsp sugar, 1/2 tbsp black pepper and thyme sprigs in a deep sautée pan. Cover with foil and place in a 300ºF oven. Bake for 1 hour until shallots are tender and sweet. Cool and store in airtight container in the fridge. Shallots will last up to 2 weeks.
Serve this mousse as an appetizer on brioche crostini and grilled bread or use it to jazz up your smashed potatoes! Pair with an aromatic white such as Sauvignon Blanc or Pinot Gris.