Red Wine Chocolate Bacon Brownies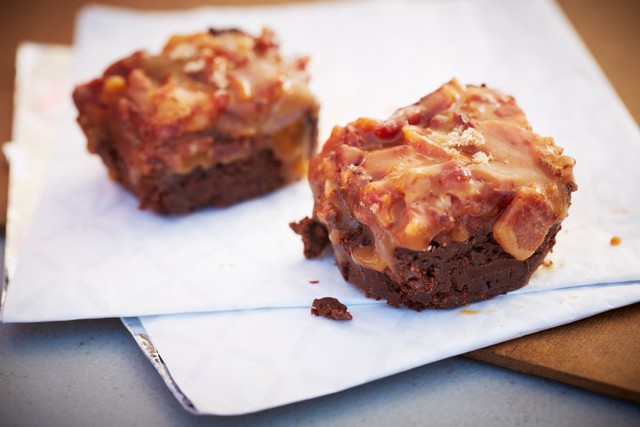 Recipe Date:
February 21, 2019
Measurements:
Imperial (US)
Ingredients
3/4 cup all-purpose flour
1 cup good quality cocoa powder
1 tsp salt
1/2 tsp baking powder
1 3/4 cups sugar
3/4 cup butter
3 eggs
6 ozs 70% dark chocolate
1/2 cup Jackson-Triggs Reserve Merlot, room temperature
Directions
Preheat your oven to 325°F. Grease an 8"x8" baking dish with softened butter or coat with cooking spray. In a large bowl sift together flour, cocoa powder, baking powder and salt. In a large pot melt the butter and chocolate over medium heat. When fully melted remove from the heat and whisk in the sugar. Continue to whisk in the eggs one at a time, mixing well between each addition. Once the mixture is well combined whisk in the wine. Sift the dry ingredients one more time, directly into your large pot and fold the batter together using a large spatula. Transfer into your prepared baking dish and bake for roughly 35-45 minutes or until a tooth pick poked into the center of the brownie come out cleanly. Slightly undercooking brownies will leave them gooey. Allow to cool, then top with chocolate bacon frosting. Sprinkle with chopped bacon.
Chocolate Bacon Frosting
1lb bacon, cooked and chopped
2 cups icing sugar
1 cup dark cocoa powder
½ cup butter, room temperature
½ cup bacon fat, room temperature
¼ cup red wine
In a medium bowl combine sugar, cocoa, butter, bacon fat and red wine. Mix thoroughly.