Korean Barbecue Chicken Thighs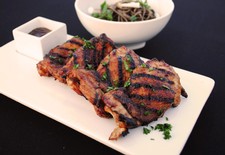 Recipe Date:
April 9, 2014
Measurements:
Imperial (US)
Ingredients
2 cups ketchup
1 1/2 cups hoisin
1/2 cup Pinot Noir
1 tbsp 5 spice blend
1 tbsp dark sesame oil
2 tsps fresh ginger, grated
1 tsp fresh garlic, minced
1/2 lime, juiced
salt to taste
Directions
To make the Korean barbecue sauce combine all ingredients except for the chicken thighs and cilantro. The barbecue sauce will yeild just over 4 cups. Mix together the chicken thighs with 3 cups of Korean barbecue sauce. The remaining sauce will keep for up to two weeks in the refrigerator. Let stand in the refrigerator for 2-12 hours before grilling. When cooked, top with fresh cilantro.
*Please note that the cook time mentioned above does not include the marination of the chicken thighs. Please allow 2-12 hours hrs for this step.