French Macarons with Goat Cheese Filling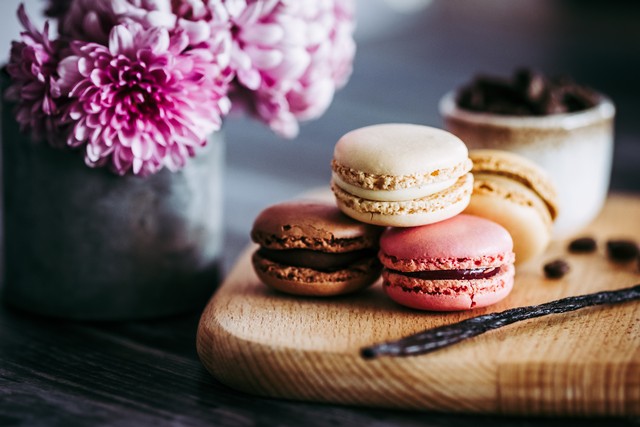 Recipe Date:
May 13, 2016
Ingredients
4 large egg whites
70 g caster sugar
230 g pure icing sugar
120 g almond meal
pinch of salt
flavour extract
gel food colouring, optional (for cookie)
300 g Woolwich Dairy CHEVRAI Soft Unripened Goat Cheese - Original or any flavoured CHEVRAI goat cheese
10 g sugar
1 g flavour extract
food colouring drops (for filling)
Directions
Preheat oven to 300° F.

Place egg whites and caster sugar in a bowl and mix with electric mixer until stiff enough to turn the bowl upside down without it falling out, continue to whip for 1-2 more minutes.
Add food coloring and continue to mix for a further 20 seconds.
Sift the almond meal, icing sugar & salt twice. Fold into the egg white mixture. It should take roughly 30-50 folds using a rubber spatula.
Pipe onto trays lined with non-stick baking/parchment paper. Bake in oven for 20 minutes or until macarons come off tray cleanly.
Cool completely before filling.

Filling
Allow goat cheese to temper to room temperature. Blend cheese, sugar, flavour extract and food colouring drops in mixer and pipe onto macaron.
Top with second macaron.

Photo & Recipe By Woolwich Dairy Inc.