Beef Bourguignon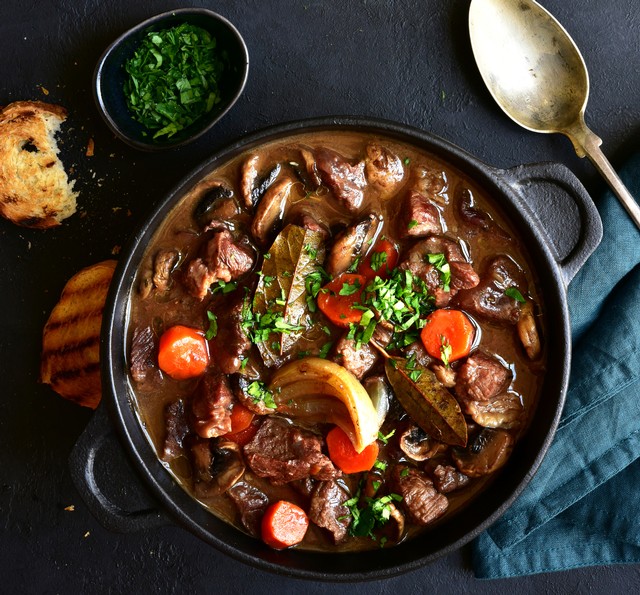 Recipe Date:
October 19, 2023
Measurements:
Imperial (US)
Ingredients
2 1/4 lbs Boneless Chuck Roast, cut into 1-in pieces
4 1/4 tsps Salt
2 tsps Ground Black Pepper
5 slices Thick Cut Bacon, cut into pieces
32 oz Mushrooms
2 tbsps Unsalted Butter
1 bottle Red Wine
2 lbs Carrots
2 Yellow Onions, thinly sliced
3 cloves Garlic, minced
1 tbsp Tomato Paste
1 can Reduced-Sodium Beef Broth
6 sprigs Fresh Thyme
2 tbsps All-Purpose Flour
10 oz Frozen Pearl Onions
Chopped Fresh Parsley, for serving
Toasted Baguette, for serving
Directions
Preheat the oven to 250 degrees F.
Season beef with 2 teaspoons salt and 1 teaspoon black pepper. Heat a large Dutch oven over medium heat. Add the bacon and cook, stirring frequently until the bacon is browned, about 10 minutes. Remove the bacon to a large plate.
Add mushrooms and 1 tablespoon of butter to the pot. Stir to combine. Sauté over medium heat until the mushrooms are browned, about 8 minutes. Add 1/4 teaspoon salt and stir. Transfer to a separate plate or bowl.
Increase heat to medium-high and add a single layer of beef cubes. Sear until the beef is nicely browned on all sides. Remove and add to the plate with the cooked bacon. Repeat with remaining beef cubes.
Add about 1/4 of the bottle of the wine. Reduce heat to medium, add carrots, onion slices and remaining salt and pepper. Saute until the onions are slightly browned. Stir in the garlic and tomato paste and cook until very fragrant. Return the beef and the bacon to the pot. Add remaining wine, broth and thyme. Bring the mixture to a simmer, cover then carefully transfer the pot to the oven. Bake for 1 hour and 15 minutes.
Once the meat and vegetables feel fork-tender, place the pot on the stove. In a bowl, mash remaining butter and flour together with a fork then add to stew. Stir in the pearl onions and mushrooms. Bring to a boil, then lower heat and simmer for 15 minutes. Remove the herb bundle. Taste and adjust with salt and pepper as desired. Sprinkle with fresh parsley and enjoy with a toasted baguette.