2016 Kew Old Vine Riesling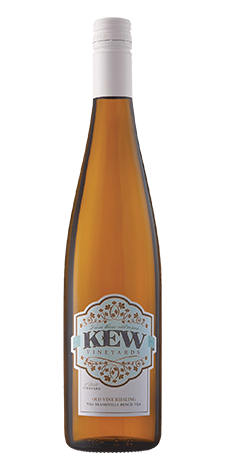 Like everything at Kew, our original Riesling plantings have quite a history. In 1975, Hermann Weis, a pioneer of modern viticulture in Niagara, planted his own Mosel-based Riesling clones on the estate. Many producers and wine critics argue that Niagara's best offerings come from the Niagara Escarpment appellation and our sophomore vintage of our Old Vine Riesling is no exception.
On the nose, notes of fresh citrus dominate with a hint of petrol. Bright acidity and notes of minerality on the palate are complemented by touches of wet stone fruit, lemon and soft green apple. A delicate mouth feel provides a touch of creaminess to the mid-palate, followed by a structured, very crisp finish full of lemon and slate characteristics.
This estate vintage pairs well with white fish, pork, and spicy food. While this wine would pair beautifully with Thai or Chinese foods, we also enjoy pairing this wine with lemongrass barbequed pork, fish tacos, braised rabbit with a mustard sauce or red snapper. Cheeses that pair well with this wine are Monterey Jack, Blue, and Gouda.
Product Reviews