2021 Jackson-Triggs Reserve Chardonnay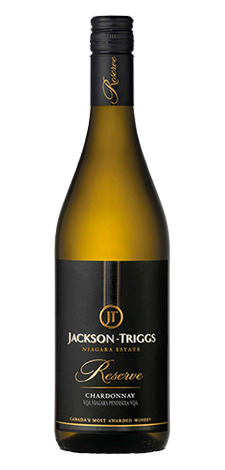 Wine Profile
Tasting Notes
The Chardonnay was aged in French oak for four months to develop creaminess and vanilla notes, balanced with citrus and tropical flavours for a wine of the finest quality.
Vineyard Notes
The 2020 harvest was, in effect, early. Harvest dates for each variety were largely notably earlier than what is considered the norm. Autumn was brilliant with warm, sunny days and nominal rainfall, ideal conditions for harvest. While yields were slightly short on all varieties, the overall quality was excellent. The perfect weather conditions allowed the grapes to develop phenolic ripeness without breakdown. Not unexpectedly, these conditions contributed significantly to an exceptional vintage that yielded wines with high sugars and low acids.
Production Notes
The fruit for the Reserve Chardonnay comes from our select Niagara Peninsula vineyards. The fruit was destemmed and immediately pressed and cold fermented at 16 degrees for 10 days. Each block was fermented separately then blended back to create perfect a harmony of Niagara terroir for a beautifully balanced Chardonnay.
Winemaker Notes
This wine is poised and well-balanced with aromas of apricots, nectarines, Niagara peaches, cloves, and an abundance of stone fruit and vanilla custard. Well-integrated on the palate with hints of oak, vanilla bean, apricot, baking spice and clove.
Food Pairing Notes
Perfectly paired with lemon and herb roasted chicken, bacon-wrapped scallops or fresh peach & goat cheese pizza.
Product Reviews