2020 Inniskillin Reserve Pinot Noir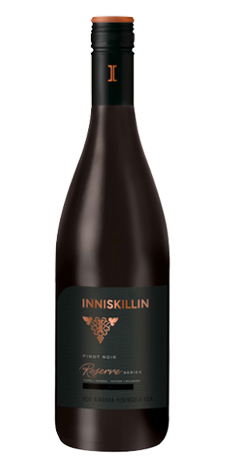 Wine Profile
Vineyard Notes
Spring 2016 started off slowly with cool temperatures, but the summer was very hot and also very dry, providing ideal growing conditions for grapevines. Disease pressure was low and the vines were clean and healthy. With ample sunshine and the summer heat the crop was able to ripen early and harvesting began September 1st. Harvesting conditions were favourable throughout September and October with sunny, warm days and cool nights. These type of fall weather conditions allow for the development of aromatic and flavour compounds in the grapes. 2016 was a great year for red wine grape varieties in particular with the fruit able to get very ripe achieving high natural sugar levels and lower acids.
Production Notes
Grapes for this classic variety were harvested from select vineyards throughout the Niagara Peninsula. After gently destemming and crushing the grapes were allowed a 48 hour cold soak to enhance colour and complexity. The must was warmed and fermented at an average temperature of 25°C for 12 days after which pressing occurred. The wine was transferred to new and older French barrels where it went through a complete malolactic fermentation prior to being aged for 17 months.
Winemaker Notes
Juicy fruit flavours of ripe strawberry. black cherry and a touch of spice are balanced perfectly by the the firm tannins and solid acidity acidity.
Food Pairing Notes
Thyme and mushroom soup, pulled pork sandwich, rosemary grilled lamb leg, cherry compote with a bloomy rind cheese like camembert or brie.
Product Reviews