2021 Inniskillin Discovery Series Susse Reserve Riesling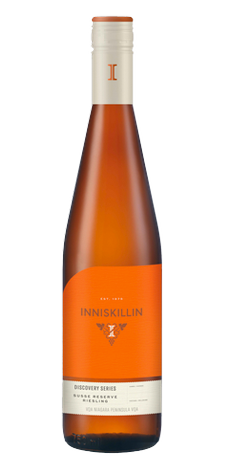 Wine Profile
Vineyard Notes
The 2019 harvest was predictably late in getting underway, starting September 6th. The sunny, cool weather and low humidity that kicked off harvest allowed the fruit to develop phenolic ripeness for an extended period without breaking down. There was an unusual and early cold snap in mid-November, along with close to 30 cm of snow on November 11th. Growers were confronted with some challenges as they navigated machinery through snowy vineyards, but prevailed successfully and wrapped up harvest on November 26th.
Production Notes
Grapes for this popular blend came from select vineyards in the Niagara Peninsula. Upon arrival at the winery the grapes were immediately destemmed and gently crushed. The juice was allowed to cold settle for 48 hrs before racking and fermenting cool at 14 C for 15 days. Some sweet reserve Riesling juice was added back to the finished wine to provide a concentrated aromatic finish.
Winemaker Notes
A mix of floral and fruit that includes citrus, apple, white peach and a touch of honey. The residual sweetness is balanced nicely by the sharp, dynamic acidity.
Food Pairing Notes
Pairs well with light cheeses (Le Sauvagine) or fruit dish. Caesar Salad, Apples & light cheese with charcuterie and fresh oysters with lemon.
Product Reviews
Genna
(Nov 10, 2017 at 8:12 AM)
This is a nice semi sweet wine with a nice fruity taste. When first trying it at Inniskillin was very impressed, when we brought the bottle home it exceeded our expectations once again.
Martin T.
(Oct 16, 2020 at 4:55 PM)
Terrific Riesling. One of the best Rieslings that I've had so far. Tree fruits, Citrus, And mineral notes. Fairly mellow acidity.
John French
(Jan 30, 2021 at 9:39 PM)
one of the best Rieslings I have ever had. Kudos to the wine maker..!!!!!!!!!
Dawn
(Jul 30, 2021 at 4:10 PM)
I sampled at the winery and I liked it so much I purchased a bottle. It's My favourite Riesling now.