The Philosopher Kings - Concert & Cellar Dinner
Friday September 6, 2019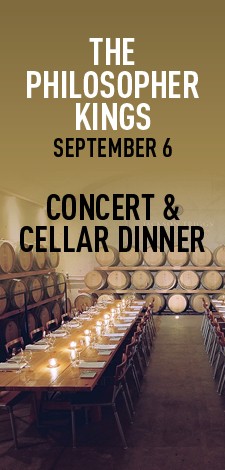 Dietary restrictions are required at least 7 days in advance (please indicate any dietary restrictions in order notes).
Dinner begins promptly at 5:30 pm. Please arrive a few minutes early to select your seat in the Amphitheatre bowl. This package includes dinner and admission to concert; price includes gratuity and NON-REFUNDABLE $7 handling fee. (Cellar Dinner experience is sold as a package ONLY)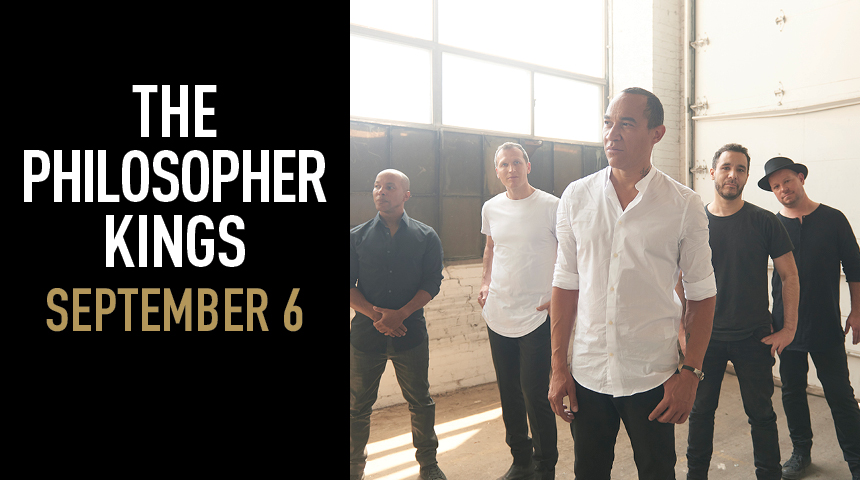 Additional Concert Information:

Dinner Guests and Wine Club Members have Advanced Seating Benefits beginning at 5:00 pm (or when sound check is complete). The first two rows of seats are not available for selection until General Admission at 7:00 pm. Join the Club!
Our open-air Amphitheatre is nestled on the side of a hill surrounded by vineyard. In order for this unique experience 'under the stars' to be enjoyed by everyone, please allow us to make a few simple suggestions. Please take a moment to look through the FAQ for additional helpful information!
Extend your stay in beautiful Niagara with accommodations at White Oaks Resort & Spa. Visit www.whiteoaksresort.com and use promo code PKG to access an exclusive concert package including one-night accommodation, $25 breakfast credit per person, shuttle to and from the concert, facility fees, and a bottle of wine in your room. Concert tickets are NOT included with the White Oaks package.
Rain or Stars, the show will go on. Whether it looks like rain (or not), we recommend you bring your umbrella, and light rain gear. Come prepared for any eventuality. As Mark Twain once said, 'Water, taken in moderation, cannot hurt anybody'. The safety of our artists, guests and staff is always our top priority.
We are a non-smoking venue. Although the law has changed, our policy has not. We are a cannabis-free facility. Please leave your marijuana at home.
Wearing proper shoes can help prevent or reduce the risk of a slip, trip and fall incident. Don't wear shoes with leather or smooth-surfaced soles, or spiked/high heels.
Libations... wine, light fare, and refreshments will be available in the Hospitality Tent throughout the evening. For the safety of all guests, baggage checks will be conducted at the gate. Any outside food or drink will be confiscated and admittance may be denied without refund.
The "Bowl" opens at 7:00 pm for General Admission to allow you plenty of time to get comfortable, but don't fret if you're the last one to arrive... we have a seat for everyone!
Conditions of Sale
- We reserve the right to refuse admittance to anyone who is or appears to be intoxicated
- Absolutely no cancellations or refunds can be made to tickets once they are purchased
- Tickets must be purchased for all patrons including children
- Program and artists are subject to change
- Tickets must not be resold. Arterra Wines Canada reserves the sole and unfettered right to invalidate any ticket purchased from or resold by any unauthorized source without refund.