Store
---

Wine is the perfect gift for any occasion. Send a wine gift to the loved ones on your list; send wine to your boss and colleagues; stock up on teacher gifts; choose hostess gifts and gifts for drop-in guests spreading holiday cheer! Great Estates Niagara's wine gifts from Jackson-Triggs, Inniskillin, and Arterra ship to any address in Ontario.

Browse our premade wine gift selections below. Can't find what you're looking for? Create your own gift by combining any of the wines available in the Great Estates Niagara online store.
Browse the Great Estates Online Store now....
Buy Now

Buy Now

Buy Now

Perfect Gift
(Great Estates)
Perfect Gift
(Inniskillin)
Perfect Gift
(Jackson-Triggs)
$29.40 / Package
$27.90 / Package
$27.90 / Package
Buy Now

Buy Now

Buy Now

Buy Now

Sparkling Celebration
Canadian Christmas
Perfect for the Hostess
Cozy by the Fire
$36.72 / Package
$35.90 / Package
$46.90 / Package
$51.90 / Package
Buy Now

Buy Now

Icewine Cuvée Duo
Something Different
$59.90 / Package
$59.90 / Package

Buy Now

Buy Now

Cabernet Duo
Exotic Sparklings
$65.90 / Package
$69.90 / Package



Buy Now

Buy Now

Icewine Bestsellers Duo
Distinct Dinner
$99.95 / Package
$81.85 / Package
Buy Now
Buy Now
Entertaining Family & Friends
ENTOURAGE Trio
$97.80 / Package
$101.57 / Package
Buy Now

Buy Now

Sparkling Icewine Duo
Niagara Wine Enthusiast
$199.90 / Package
$135.70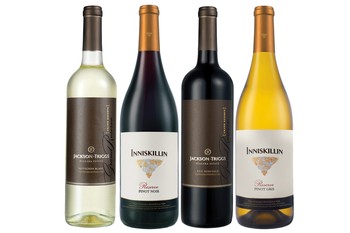 Buy Now
Great Estates Quarterly
Wine Club Membership
$105 / Shipment (Ongoing) or
$420 / Year (Prepaid)