SHOP BY...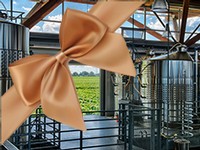 Looking for the perfect gift?
Treat your loved one to an epicurean experience featuring five courses of fine regional cuisine and award-winning wines, each staged in a stunning location of our winery. This 'progressive' dinner takes you on a gastronomic adventure that you're sure to remember!
This Gift Certificate can be redeemed for a public Savour the Sights event at a time that is convenient for the gift recipient. Please contact us to redeem, and make a reservation.
Savour the Sights Menu
The menu for our Savour the Sights dinners changes based on the season and the local resources that are at our disposal. Please click here for a sample menu.
SAVOUR THE SIGHTS
Relax amidst striking architecture while you savour award-winning wines and delectable cuisine, served in picturesque locations throughout our stunning winery. This unique 'progressive' dining experience takes you on a gastronomic adventure. From your arrival in the Great Hall for a sparkling wine reception to candlelit dining in our traditional barrel cellar, every aspect of how we craft wines from vineyard to bottle is discussed during this open-forum, interactive event.