SHOP BY...
Personalize your order
Personalize your order with a Complimentary Gift Note from Great Estates Niagara. Click here for the full selection of Gift Note options.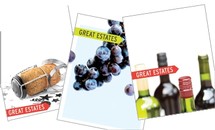 SAVOUR THE SIGHTS
Relax amidst striking architecture and savour our award-winning wines complimented with each delectable course of food served at picturesque locations throughout Jackson-Triggs Niagara Estate Winery. This 'progressive dining experience' takes you on a gastronomic adventure. From your arrival in the Great Hall for a sparkling wine reception to candlelit dining in our traditional barrel cellar, every aspect of the way we craft our wines from the vineyard to the bottle is discussed, in this open forum, interactive culinary event.