2020 Jackson-Triggs Grand Reserve Pinot Noir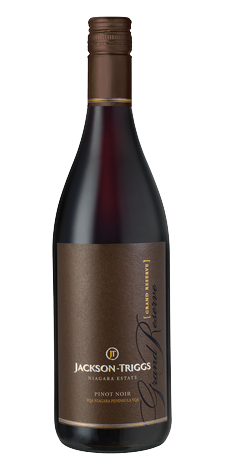 Wine Profile
Tasting Notes
Perfumed with hints of plum, dark fruit and oak, the Grand Reserve Pinot Noir is layered and complex. On the palate this wine is full bodied, exhibiting succulent flavours of cherry and spice that evolves into a long, candied fruit finish.
Vineyard Notes
Despite the late start to the growing season due to a cool spring, the vines started flourishing in early May, making up for lost time through the remainder of the hot, dry summer. This above average hot summer was perfect for grape development, allowing all varieties including late ripening reds the opportunity to thrive. Things became challenging approaching harvest as the weather shifted to less than ideal with high heat and humidity and some rain; thankfully several dry days allowed for all varietals to be harvested by early November. Both thin skinned grapes and the later ripening reds were ultimately at optimal quality in the end.
Production Notes
Harvested predominantly from the Montague Vineyard in mid-October, the fruit was left hanging until perfect ripeness and balance before being picked. It was then carefully crushed and sent to tank to cold soak for 72 hours. The tanks were warmed to begin the 10 day fermentation with carefully selected yeast, then rotated to mix the skins three times daily; this achieved extraction of colour and flavour before a gentle press and completion of malolactic fermentation. The wine was then afforded an 18 month elevage in 100% French oak until it yielded incredible complexity and balance.
Winemaker Notes
This delicate wine displays vibrant cherries, cranberries, and black currants on the nose. Along with fresh strawberry, there are hints of light leather and dried herbs. The fruit-forward palate is lush with generous ripe red cherry and strawberry, accentuated with firm tannins, well integrated oak and a lingering, balanced finish.
Food Pairing Notes
This luscious Pinot Noir is perfectly matched with baked Brie and maple syrup glaze & candied walnuts, and cedar plank smoked salmon with sautéed fiddle heads. Try it with wood-fired margherita pizza, lamb ragoût and the celebrated annual Thanksgiving turkey.
Product Reviews
Shauna Lee Closs
(Sep 5, 2015 at 4:04 PM)
This is one of my favourite wines. So smooth. Highly recommended.
Karen Galler
(Jan 24, 2016 at 6:47 AM)
We really enjoyed this wine.
Deanna King
(May 25, 2020 at 12:00 PM)
The absolute best wine we've found to date. To be honest, we pretty much gorge on it.