Jackson-Triggs 6 Bottle Pack | Wineries of Niagara-on-the-Lake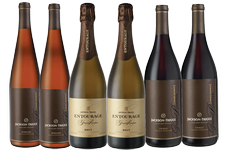 Jackson-Triggs 6 Pack, $153.70
Jackson-Triggs 6 Pack features sparkling, white and red wines, perfect for a complete, intimate dinner gathering. Begin your dinner with our classic Grand Reserve ENTOURAGE Sparkling Brut, first course will pair with the classic Grand Reserve Reisling and wow your guests with a stunning main course paired with our Grand Reserve Shiraz. Plus! Free shipping in Ontario.
This offer includes:
2 bottles of 2016 Jackson-Triggs Grand Reserve ENTOURAGE Sparkling Brut
2 bottles of 2019 Jackson-Triggs Grand Reserve Riesling
2 bottles of 2017 Jackson-Triggs Grand Reserve Shiraz
2016 Grand Reserve ENTOURAGE Sparkling Brut
This wine displays beautiful aromas of brioche and toast, supported by underlying citrus and mineral notes. The persistent and round mousse provides elegance, and leads to a full mid palate and a crisp, prolonged finish. Sip the ENTOURAGE Sparkling Brut all on its own, or try with fresh oysters, sushi, spicy Asian, or popcorn drizzled with Truffle oil. A superbly versatile wine, it can be perfectly paired with just about any dish.
2019 Grand Reserve Riesling
The Grand Reserve Riesling is a refreshing wine with prominent notes of citrus, followed by ripe stonefruit and hints of wet rock. On the palate this wine has a crisp and lively acidity and dominant citrus flavours, overall this Riesling shows great balance and a clean zesty finish.
2017 Grand Reserve Shiraz
Dark red fruit notes of ripe raspberry and blueberry dominate the nose complemented by bold aromas of black pepper and mocha. This Shiraz is medium bodied with silky tannins and juicy mouth-filling texture. The palate exhibits the same rich red fruit from the nose layered with flavours of chocolate and espresso with a lengthy baking spiced finish. This wine is ideally paired with roasted lamb, traditional barbecue, and oven-fired pizza.
Free Canada Post shipping.