2022 Inniskillin Sparkling Cabernet Franc Icewine 375ml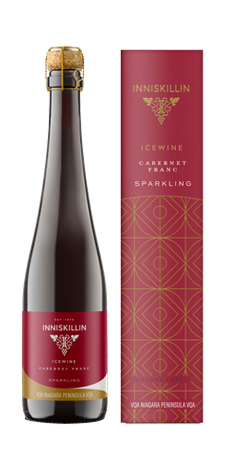 Wine Profile
Tasting Notes
This decadent new style of Icewine joins the long list of the award-winning Inniskillin Icewine collection - Sparkling Cabernet Franc Icewine. This very unique wine shows aromatics of cherries and strawberries. On the palate, lively flavours of raspberries, rhubarb and a repeat of strawberries are abundant, all balanced by a crisp acidity. Always enjoyable with chocolate flavours and fresh red fruits.
Production Notes
Picked at an average temperature of -10°C these frozen grapes were pressed immediately upon arrival. The concentrated juice was allowed to cold settle for 48 hours before the clean juice was racked and inoculated using a very carefully selected yeast strain that can withstand the high sugar levels. As the fermentation proceeded, the wine was transferred to a closed pressure vessel where it was allowed to ferment cool at 17°C for 2 weeks to capture the natural CO2.
Winemaker Notes
This unique Icewine shows an abundance of ripe red fruit aromatics including strawberry, cherry and rhubarb. The effervescence and crisp acidity balance the concentrated flavours on this exceptional wine.
Food Pairing Notes
Always enjoyed with chocolate based desserts or fresh red fruits!Rich, creamy cheeses with a strawberry, rhubarb chutney; chilled strawberry soup or gazpacho; fresh greens or spinach salads with strawberries or pomegranate; cocoa dusted duck prosciutto; roasted chicken or turkey with a red berry glaze.
Product Reviews
Nam Pham
(Dec 28, 2013 at 7:38 PM)
the perfect balance of sweetness and acidity that bursts with richness
Kedisha
(Dec 16, 2016 at 8:54 PM)
They were guving free taste test at Super Store and even though the price freak me out i had to buy it. The perfect balance
Chantell
(Oct 20, 2017 at 3:38 PM)
More like Inniskillin my wallet! But definitely worth it. A little goes a long way, beautiful taste.
norm c
(May 10, 2018 at 6:49 PM)
Eat a slice of pumpkin pie while sipping this nectar of the gods
Nadine Ellul
(Feb 11, 2019 at 10:57 AM)
Incredible - definitely a favorite. Nobody does it like Inniskillin.
Lynn
(Dec 18, 2019 at 9:02 AM)
Very nice with dark chocolate or fresh fruits.