Jackson-Triggs Dinner Experiences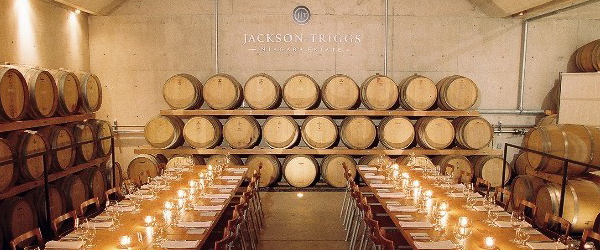 Savour the Sights
Exclusive dinners starting at $175 per person; maximum capacity 40 guests (minimum charges will apply)
Relax amidst striking architecture; savour award-winning wines with every delectable course, each served in a picturesque location of the winery. This 'progressive' dining experience takes you on a gastronomic adventure - from your arrival at the sparkling wine reception to candlelit dining in our barrel cellar, every aspect of crafting our wines from vineyard to bottle is discussed in this open forum, interactive culinary event.
---
Explore Your Senses
Exclusive dinners starting at $135 per person; maximum capacity 250 guests (minimum charges will apply)
Imagine a 'self guided' tour while enjoying award-winning wines complemented by gourmet cuisine. This forum is the perfect way for larger groups to enjoy this stunning venue. At arrrival, you'll receive the evening's program featuring the menu and a map to lead the way from station-to-station. Guided tours will be offered throughout the evening to provide in-depth winemaking knowledge. You'll experience an evening of winery self-discovery while you network and indulge in bountiful wine and culinary stations at beautifully appointed locations throughout the facility.
---
Customizable Dinner Experience
Exclusive three, four or five course dinners starting at $115 per person (minimum charges will apply)
We would be delighted to host your event. Please contact us to discuss how we can customize your dinner experience.
---
Booking Guidelines
All experiences are subject to availability and group size.
To guarantee your reservation with us, an agreement will be issued, a valid credit card secured and a $1500 non-refundable deposit will be taken.
Cancellation within fourteen (14) days of the event date is subject to 100% of the estimated invoice as outlined in the booking agreement.