2022 Amphitheatre Season
Tickets for the 2022 Summer Concert Series go on Sale May 4.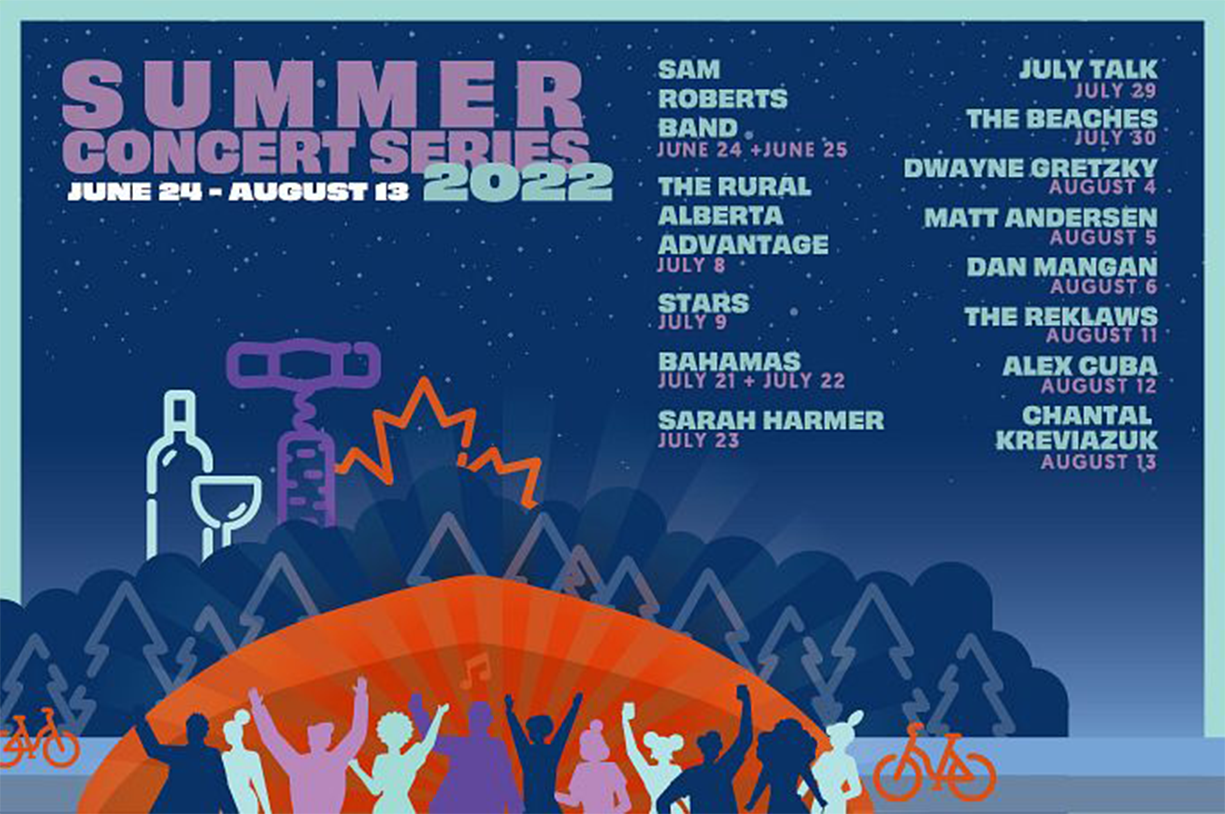 Join us in our outdoor amphitheatre for an unsurpassed combination of renowned Canadian talent and premium, award-winning Estate wines...
Barrel Cellar Dinner can be added on to your concert ticket. Once you have selected your concert tickets and progessed to the CHECKOUT, you will see an option to add Cellar Dinner to your experience.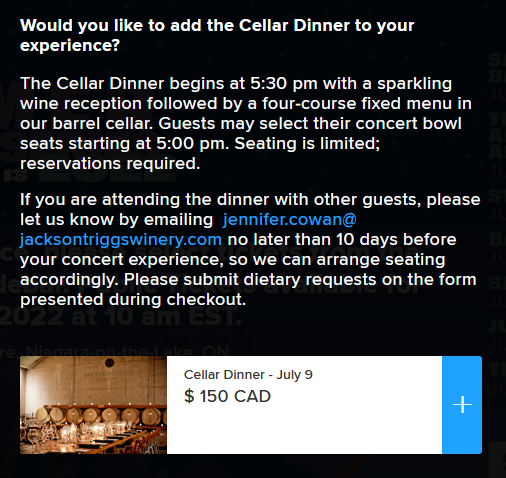 If you missed the Dinner Add-On, please contact us to see if it is still an option for your concert experience.
$150 per person. Seating is limited; reservations required.
View Sample Menu
---
Funding provided by the Government of Ontario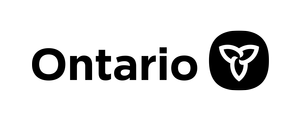 ---
Sam Roberts Band with Monowhales
June 24 + 25, 2022 | 8:00 PM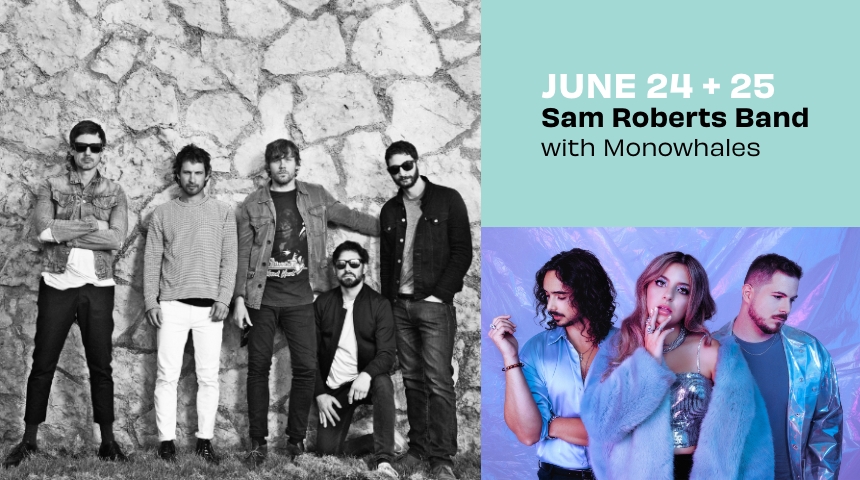 Multi Juno Award-winning Sam Roberts Band followed up 2014's smash hit Lo-Fantasy with their sixth full-length album, TerraForm in 2016. Hailing from Montreal, Sam Roberts enjoyed nationwide success in 2001 with his debut album The Inhuman Condition. The band's legendary live shows have earned them spots performing alongside the Rolling Stones and AC/DC everywhere from Letterman and Conan to Bonnaroo, ACL and Lollapalooza. As they continue their legacy of hit singles, they will be kicking off the summer at Jackson-Triggs once again.
---
The Rural Alberta Advantage with Common Deer
July 08, 2022 | 8:00 PM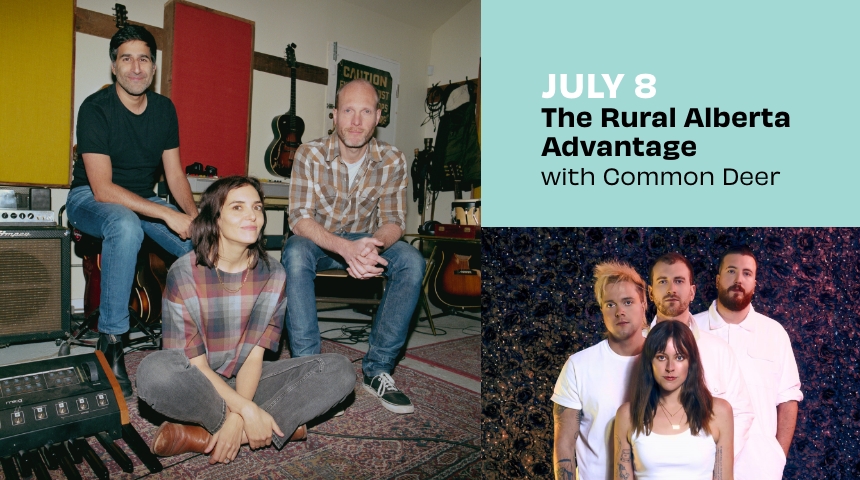 The Rural Alberta Advantage's percussive folk songs about hometowns and heartbreak have taken the trio of Amy Cole, Paul Banwatt and Nils Edenloff from humble recognition among indie rock die-hards to sold-out tours and devoted fans around the world with featured coverage from The New York Times and Rolling Stone. The band has been nominated for two 2012 Juno Awards, long listed for the 2011 Polaris Music Prize, awarded the Galaxie Rising Star for Recording of the Year at the 2010 Indie Awards and the CBC Music Prize for Best Independent Artist in 2014. The Rise, the new EP from The Rural Alberta Advantage, is the first word in a conversation, the first step on a new, unkept trail. It's the beginning of a new era for the Toronto trio, and the first of three pieces in a year-long puzzle, which will be constructed over three separate releases.
Toronto's Common Deer, an 80s-inspired modern synth-pop band composed of two sets of siblings, has delivered its first full-length album, MAXIMALIST, that tackles a range of raw and honest themes: mental health, abuse, addiction, sexism, and obsession.
See The Rural Alberta Advantage Full Bio
---
Stars with Beatrice Deer
July 09, 2022 | 8:00 PM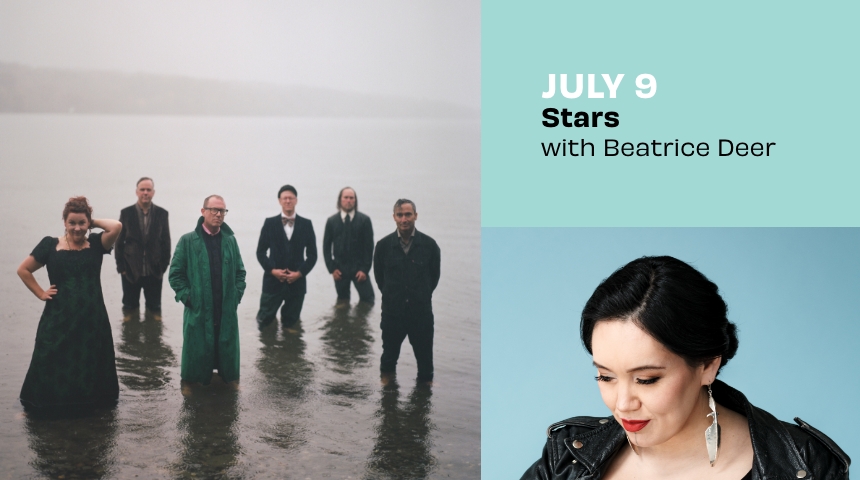 For the members of Canadian band Stars, Capelton Hill is a place where things don't change. From Capelton Hill, the new record from the band, is about this place, the relationships formed there, the inevitable decay of it all, and the joy and life that happens in between. More than ever, From Capelton Hill feels like a direct channeling of Stars' decades-long pursuit: "This band has always been us trying to navigate what it means to be inside a life that is going to end," says vocalist Amy Millan. "And we're getting closer."
---
Bahamas
July 21 + 22, 2022 | 8:00 PM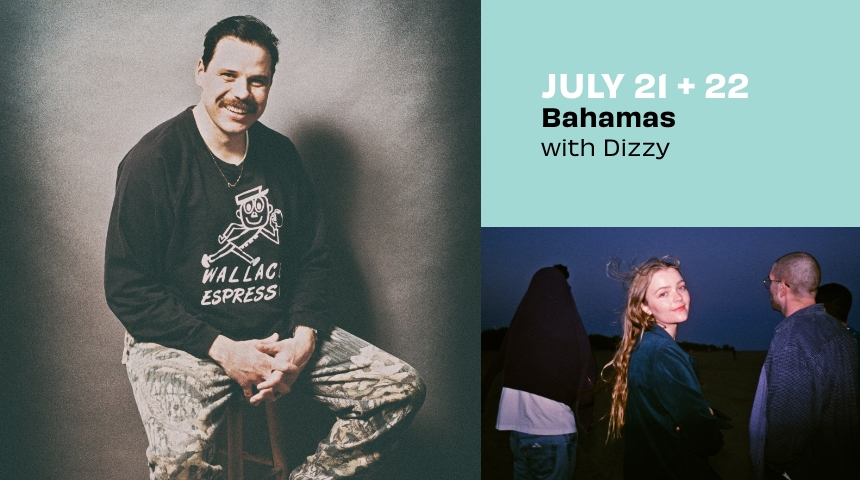 "I think I'm always trying to get closer and closer to the source, like the way old blues albums were made -- there's no production; all the emotion you're hearing is just the players, the room, the song. It's almost like a photograph as opposed to a painting, where if you don't like the color of a certain flower in the garden, you change it. I want you to hear every word I'm saying, and take in the song and make it your own." Bahamas
---
Sarah Harmer with Lacey Hill
July 23, 2022 | 8:00 PM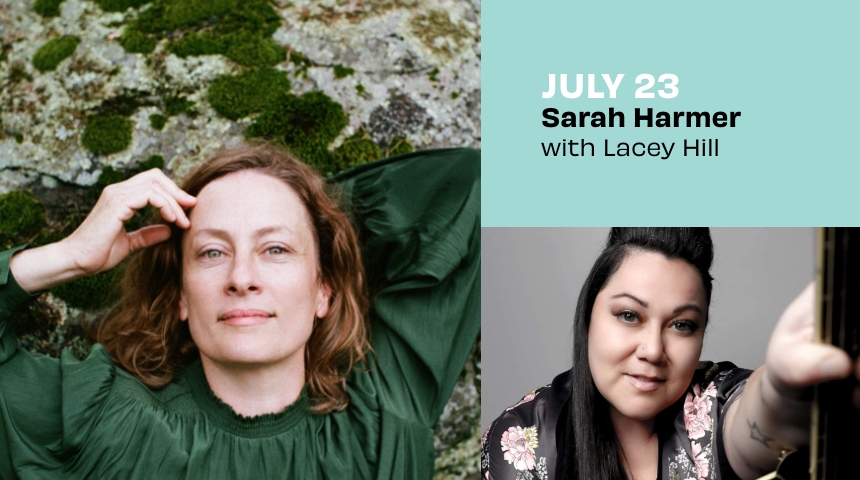 These songs from Sarah Harmer's new album Are You Gone are the inner ramblings of twilight, conversations with the critters in the air and on the lawn, floorboard creaks of a loved one in the next room. Some are restorative and some rock. Within them there are answers to where Sarah has been and what it means to come back now. Whether to the loyal fans that have followed Harmer's work over the decades or to the newly initiated, Are You Gone is a resounding statement of purpose and a dedication to the indelible spirits around us.
---
July Talk with Lou Canon
July 29, 2022 | 8:00 PM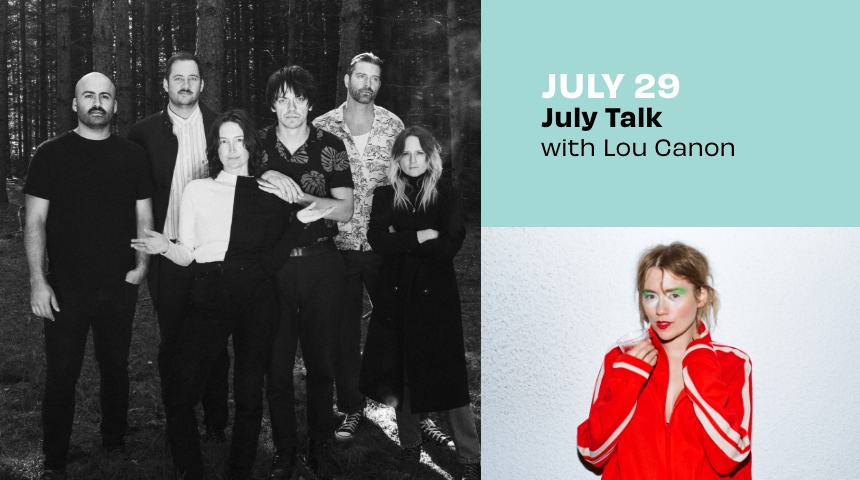 July Talk continues to rise with purpose and poise. The band stormed in with the flinty rock n' roll of their debut, followed by the volatile siren songs of Touch, an album of sawtoothed pop + convulsing tension. With Pray For It, their JUNO Award winning third album, July Talk acknowledges the power of vulnerability as a way to begin again. Their churning and fiercely physical performances make spaces hiss and hum, spit and seethe in glorious, artful abandon. The band has also grown in their roles as advocates of an urgent and fundamental music industry recalibration, through curatorial partnerships with festivals and by defining their own parameters for safer spaces at rock shows.
---
The Beaches
July 30, 2022 | 8:00 PM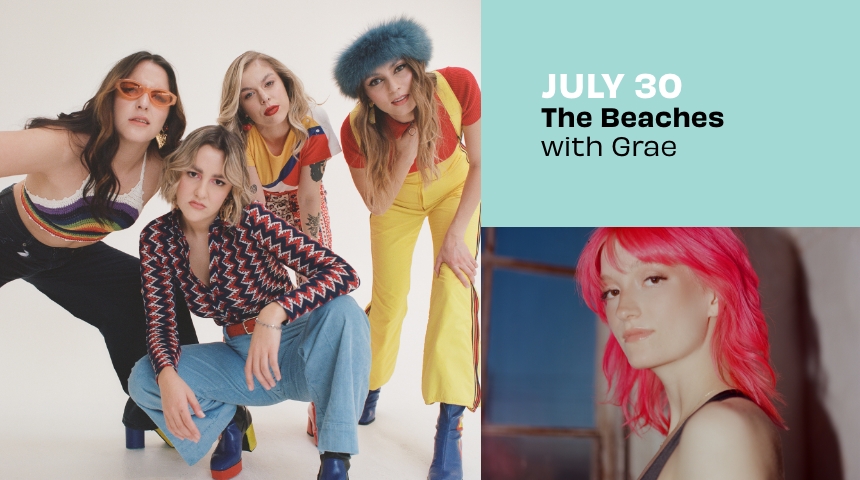 Named appropriately after the Toronto neighbourhood they all hail and hang in, The Beaches are authentically rock 'n' roll. Their '70s aesthetic, unapologetic attitude and electrifying sound all fit harmoniously in a modern rock context. Comprised of sisters Jordan and Kylie Miller (on lead vocals/bass and guitar, respectively), Eliza Enman-McDaniel (on drums), and Leandra Earl (on keys and guitar), the band has a natural kismet that shines through on each track and in their live performances. The Beaches have become one of Canada's top acts with a global reach, placing them in a modern and future context where rock prevails and marking them one of this generation's most promising young rock groups.


---
Dwayne Gretzky with James Baley
August 04, 2022 | 8:00 PM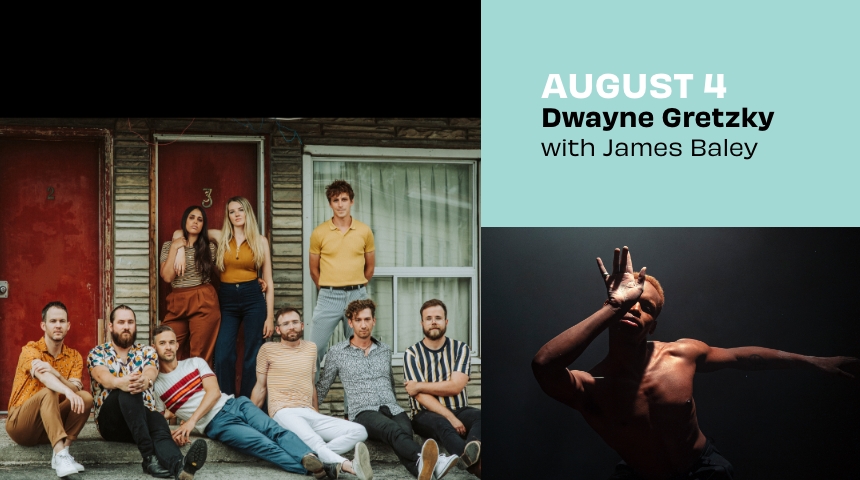 Dwayne Gretzky are Canada's reigning champs of nostalgia and a can't miss live music experience; a curated nostalgia trip that captures the unique joy of turning a radio dial and being surprised by the familiar. A 10+ piece juggernaut that brings to life the greatest songs of all time, this talented group of Toronto musicians ignites audiences with their charm, fidelity and theatrical flair. Celebrating classic pop and rock, from Fleetwood Mac to Fatboy Slim, Dwayne Gretzky has delivered electrifying renditions of over 700 songs.
---
Matt Andersen with Spencer Burton
August 05, 2022 | 8:00 PM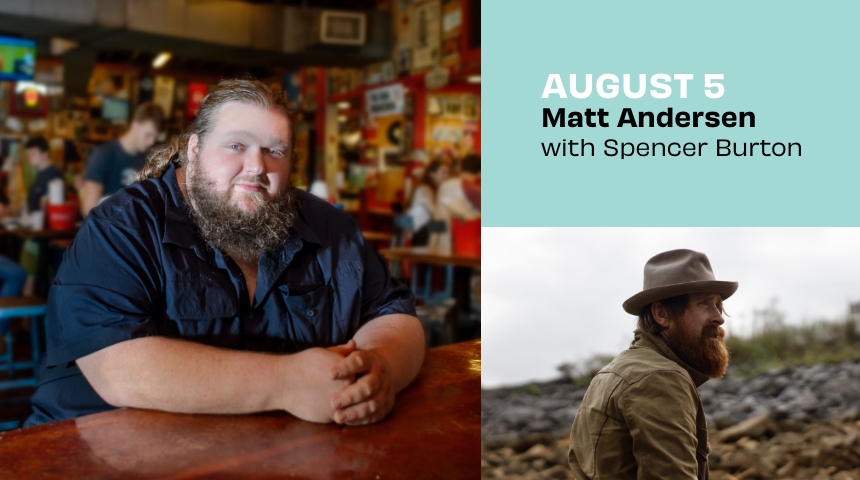 Matt Andersen has logged countless miles following little white lines down the highway, crossed vast oceans, and left audiences around the world forever changed by his powerful, soul-baring song writing. Those travels have been fueled by a profound devotion to music, a journey that began in New Brunswick with six steel strings. Since then, Andersen's work has reached spectacular heights through rich arrangements and fruitful collaboration, but at its core, one musical relationship has remained at the very heart of the whole affair. For his latest long-player, the laid-bare House to House, Andersen brings it all back home with the sweet chemistry that only a voice and guitar alone, together, can conjure.
Spencer Burton has always been strongly connected to the natural world. An Ontario boy raised across the great expanse of Canada, Spencer carries with him an insatiable wanderlust and deep respect for nature. His musical trajectory has been multifaceted, from his punk rock roots as part of Attack in Black to the darker country-inspired sound of his two first solo albums under the name Grey Kingdom. In 2012, Spencer dropped Grey Kingdom in favour of his own name, moving towards a more natural country folk sensibility.
---
Dan Mangan with Georgia Harmer
August 06, 2022 | 8:00 PM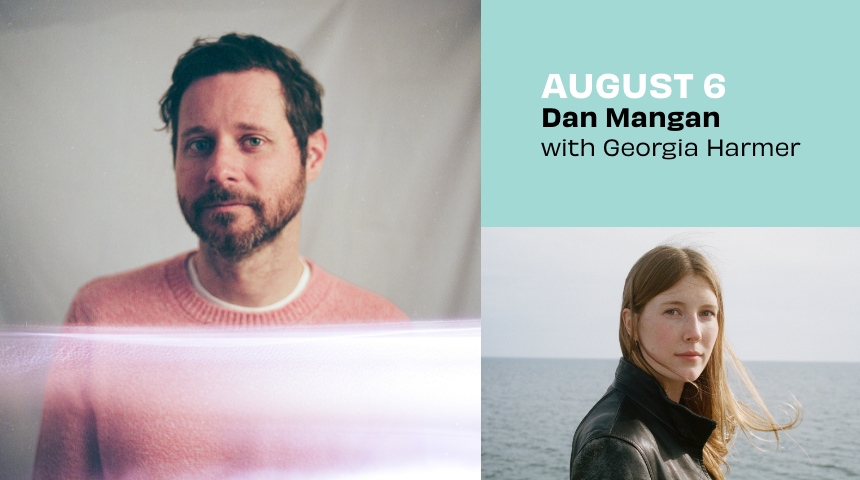 Dan Mangan is a two-time JUNO award winning & two-time Polaris Music Prize listed musician and songwriter. He lives in Vancouver, British Columbia with his wife and two sons. He has released 5 studio LPs on Arts & Crafts, and toured extensively in North America, Europe & Australia. Dan also scored the feature film Hector And The Search For Happiness starring Simon Pegg as well as television shows for Netflix and AMC. In 2017, he co-founded Side Door, a community marketplace platform matching performers with spaces to create shows anywhere, including interactive ticketed online shows.
Georgia Harmer is a Toronto-based singer-songwriter with a depth of style and hunger of ambition that belies her years. The 22 year-old singer – who comes from a strong lineage of Canadian artists and poets, including aunt and labelmate Sarah Harmer – first cut her teeth as a backing vocalist for Alessia Cara. Her spellbinding songs are led by her own unforgettable voice, with a range of emotion that glides lithly between soft distorted rockers and bucolic ballads.
---
The Reklaws with Nate Haller
August 11, 2022 | 8:00 PM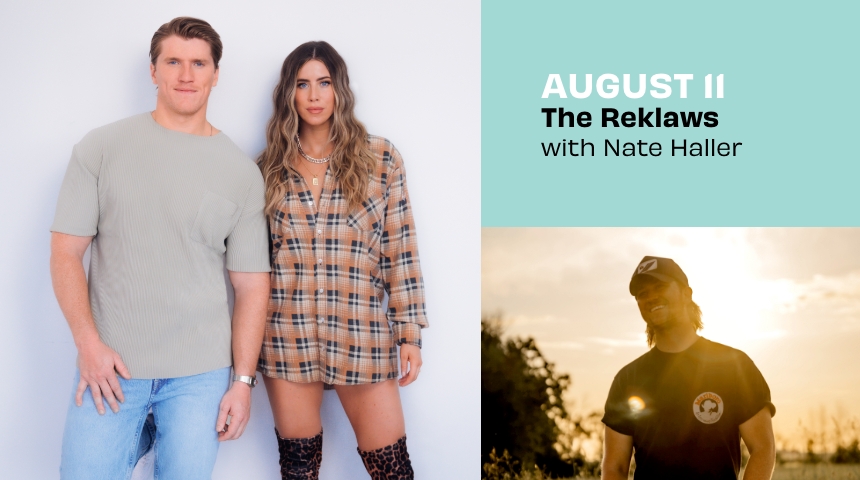 The Reklaws are a one-of-a-kind duo made up of siblings Jenna and Stuart Walker, proud to bring the party to every stage they stand on. The Reklaws found breakout success with their debut single "Long Live the Night," the most-streamed domestic song of all Canadian country artists and theme song for the CFL Thursday Night Football national broadcast in 2018/2019. 2021 was a record-breaking year for the duo. Their viral TikTok hit "What the Truck" recently earned GOLD-certification, making it the fastest-ever Canadian country song to go GOLD in the streaming era. Last year also saw the pair garner a JUNO Award nomination and six 2021 CCMA Awards nominations, making them the most nominated artists for the 2021 CCMA Awards, taking home wins for Group or Duo of the Year and Top Selling Canadian Single ("Can't Help Myself" with Dean Brody). The Reklaws hold 3 JUNO nominations, 4 CCMA Awards, 2 #1s at Canadian Radio, 7 GOLD and 5 PLATINUM singles and a GOLD-certified debut album (Freshman Year). With 230M+ Global Streams, 4 of the top 20 streamed singles by a Canadian country artist since 2019 (more than any other artist) and the most domestically streamed debut album in Canadian country history, it's clear that The Reklaws are poised to be country's next superstars.
In the short time since his debut, Ontario native, Nate Haller was named as iHeart Radio's Future Star and has also featured on the front cover of Apple's CANADA'S COUNTRY playlist and Spotify's ALL ABOUT COUNTRY playlist. With a soft, caring side that pairs seamlessly with an undeniable gritty sound and style that only a small-town boy with heart and determination can offer, Nate brings a new enthusiasm and edge to the Canadian country genre. Approaching 5M global streams across 3 releases to date, fans can expect new music and tour dates in 2022.
---
Alex Cuba with Ana Lía
August 12, 2022 | 8:00 PM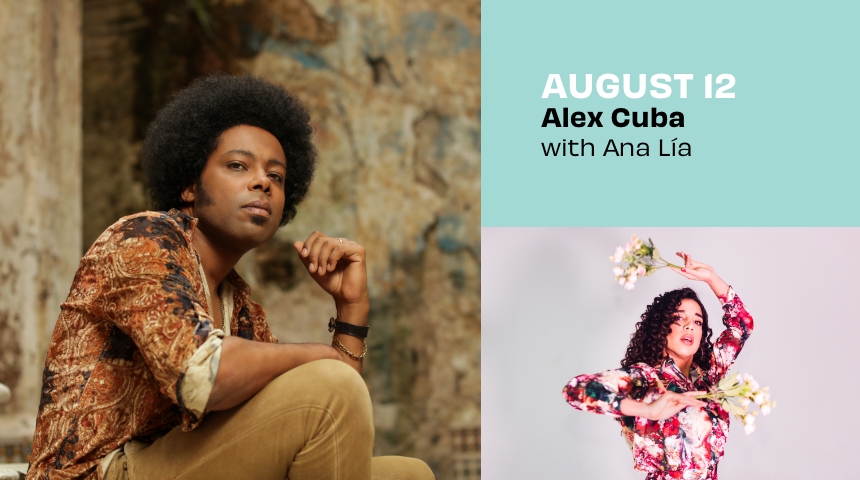 Alex Cuba's naturally retro songwriting shines on his seventh studio album with the acoustic guitar, upright bass and percussion. After six albums that illustrate a development through jazz/pop/rock, Alex has set out to capture the mood and vibe of the original demos when the songs are recorded for the first time; that precise moment of total honesty between the composer and his craft.
Ana Lía lights up a room. A Dominican-Canadian, her charming, vibrant performances deliver an unmistakable experience for every audience. The singular blend of pop and Latin rhythms and her bright, rich voice, makes her music enjoyable beyond language. In 2020, Ana Lía launched herself as a solo artist and has released five singles ("Abul", "Samaná", "I Could Get Used To This", "La Puerta", "Sí. No. No sé."). In less than two years, she's garnered over 158K streams, more than 91K listeners, in 57 countries. This up-and-coming firecracker is here to stay and infect us with her luminous energy.
---
Chantal Kreviazuk
August 13, 2022 | 8:00 PM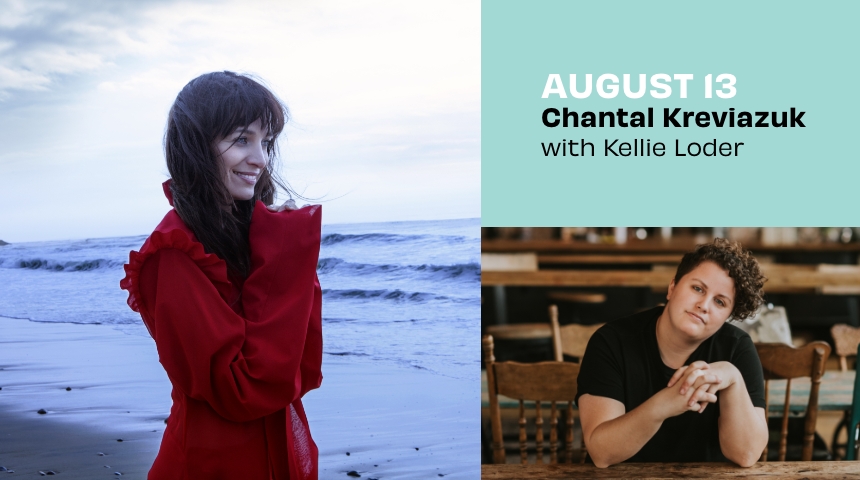 Chantal Kreviazuk is a platinum-selling, Grammy and three-time Juno Award-winning artist from Winnipeg. In 2016, she returned with her sixth album "Hard Sail." While raising her three sons with husband Raine Maida, she also spent time on her other musical passion, crafting songs. Chantal has written for Drake, Pitbull, Kendrick Lamar, Britney Spears, Christina Aguilera and Josh Groban and countless others. A holiday album - "Christmas Is A Way Of Life, My Dear" – followed in 2019, and a brand new album "Get To You" was released in the summer of 2020.
See Chantal Kreviazuk Full Bio
---