SHOP BY...
Personalize your order
Personalize your order with a Complimentary Gift Note from Great Estates Niagara. Click here for the full selection of Gift Note options.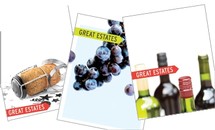 Great Estates Niagara
Please note that we can only ship within the province of Ontario at this time.

Happy Canada Day! -
Raise a glass to Canada and celebrate Canadian wine with FREE SHIPPING on all orders, today only (July 1, 2015)!
No promo code required | Discount applied at checkout after entering shipping province.