Inniskillin Dinner Experiences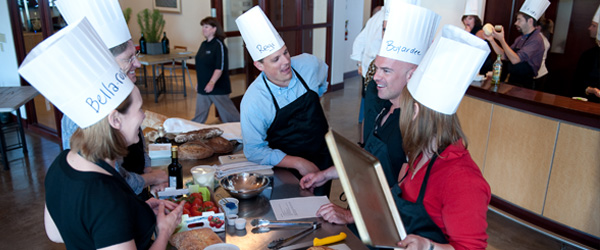 Inniskillin's Great Canadian Kitchen Party
Exclusive Dinners starting at $135 per person; Available for up to 30 guests (minimum charges will apply)
You'll chop, slice, stir, and sip as our chefs take you on a culinary journey influenced by cuisine from across Canada. Begin the experience on our Piazza, sipping Sparkling Icewine as the chefs set the scene for your epicurean adventure. Divide & conquer as each designated team takes on a course (guidance provided, naturally!) don your chef's hats and aprons, and interact with our chefs as they assist you to create dishes that you'll enjoy family style. Friendly competition heats up as your team endeavours to prepare the best dish!
---
Chef's Journey Dinner
Exclusive Dinners starting at $175 per person; Available for up to 80 guests (minimum charges will apply)
Meet our Estate Chef and get a glimpse into the fascinating journey of wine and food. The exploration begins on the Piazza with a sample of Sparkling Vidal Icewine. From here, it's on to our Barrel Cellar to enjoy one of five delicious courses. Next, we weclome you to Founders' Hall and our Demonstration Kitchen to watch our chefs in action. Your evening conludes with dessert bites in our Brae Burn Barn & boutique, paired with renowned Icewine. The Chef's Journey is an authentic experience showcasing the finest in wine and regional cuisine - a wonderful sense of wine country!
---
Piazza Party
Exclusive Dinners starting at $110 per person; Available for up to 80 guests (minimum charges will apply)
The Piazza Party is a 'self guided' casual BBQ experience. This style of event is the perfect way for larger groups to enjoy our outdoor rustic dining. Each guest will experience an evening of winery self-discovery as they network and indulge in bountiful wine and gourmet treats at culinary stations. Guided tours will be offered throughout the evening.
---
Customizable Dinner Experience
Exclusive three, four or five course dinners starting at $115 per person (minimum charges will apply)
We would be delighted to host your event. Please contact us to discuss how we can customize your dinner experience.
---
Dinner Experiences - Booking Guidelines
All private dinner experiences are subject to availability and group size.
To guarantee your reservation with us a booking agreement will be issued and a valid credit card will be placed on file and a $1500 non-refundable deposit will be taken.
Cancellation within fourteen (14) days of the event date will be subject to 100% of the estimated invoice as outlined in the booking agreement.